Fri., March 23, 2018 6:30pm ·

SHARE THE SIMPLE LENTEN MEALS FLIER (BILINGUAL) BELOW.
The Social Justice Committee invites you to join us for Simple Lenten Meals in the North Conference Room on the Friday evenings of Lent following the 6pm Stations

of the Cross.
Each Friday we collect donations to benefit a different community-based organization in Washington, DC. On Friday, March 23, the beneficiary will be Horton's Kids.
Consider spending your early Friday evening with St. Matthew's family and friends - come for the 5:30pm Mass, 6pm Stations of the Cross, and end with a shared meal organized by the Cathedral Young Adults, for this great opportunity of almsgiving.
Please visit the Horton's Kids website https://www.hortonskids.org/ from which the following is excerpted and summarized.
Who We Are - Horton's Kids - The Neighborhood and Those We Serve
For over 25 years, Horton's Kids has served Wellington Park apartment complex in Ward 8, one of Washington, DC's most at-risk neighborhoods. This Section 8 housing community is geographically isolated and has one of the city's highest rates of violent crime, gang activity, and substance abuse. We work with over 500, grades K-12 children, who must overcome the effects of multi-generational, urban poverty, and their neighborhood's inherent risk factors. Many participants live in food-insecure households with annual incomes under $10,000, well below the poverty line. Local public schools chronically underperform; of elementary students, only 15% read and 17% perform math, at grade level. About 80% of the neighborhood adults do not have high school diplomas.
What We Do - Our Mission
Horton's Kids' mission is to empower at-risk children and prepare them for successful and healthy lives through educational opportunities and comprehensive programs tailored to their needs. We provide a holistic, research-based continuum of academic, enrichment, and basic needs supports, designed to empower children to succeed. We believe circumstances should not dictate a child's future, and that every child should graduate from high school ready to succeed in college, career, and life.
Community Resource Center - Most of Horton's Kids programs take place here, just steps from the children's homes. Partner organizations (e.g., Concerned Black Men, DC Diaper Bank, and the Wendt Center) deliver services at the Center. For many families, the Center is the only safe, consistent, and accessible source of fresh produce, healthy food, books, and computers. It is equipped with bullet-proofglass. The Center enables participants and staff to interact and communicate on ways to accomplish the shared goal of supporting and empowering the children for success.
Academics - Horton's Kids seeks to close the educational gap that often exists for children from low income families. Programs help children overcome deficits, improve literacy and math skills, stay on track to graduate high school, and become ready for college and career.
Success Stories - Read the inspiring stories of alumni who overcame tremendous obstacles and persevered to find success, and who represent the experiences of hundreds of children Horton's Kids has impacted. https://hortonskids.org/impact/success-stories.
Horton's Kids high school graduation rate is nearly twice the neighborhood average.
(1) One-on-One Tutoring - Children attend tutoring at the House of Representative's Rayburn Building, and at US Departments of both Education and Transportation, with focus on homework completion and individually tailored literacy exercises.
(2) Literacy Intervention – The Center's library promotes the love of learning and reading by encouraging children to select books from all reading levels to take home. Summer school and literacy recovery activities are offered to maintain learning achievement.
(3) Homework Help - Off-duty educators help children with homework two hours after school (Mon. to Thurs.) at the Center (with computer labs). Older participants have other project-based programming in the evening to help stay on track for graduation.
(4) Educational Advocacy - Horton's Kids helps families enroll children in the best schools possible. Over 80% are enrolled in high-performing charter schools (e.g., KIPP DC, Cesar Chavez, and Thurgood Marshall Academy).
Enrichment and Youth Development - Programs and activities provide children opportunities for learning and new experiences during their out-of-school time to help them broaden their horizons, find new interests, explore their strengths, and enjoy their childhood:
(1) Weekend Enrichment - The Center is a hub for engaging weekend programming (e.g., cooking and dance classes, arts and crafts, boxing lessons, team sports, and gardening).
(2) DC Field Trips - For many children, a Horton's Kids field trip is often the first time they cross the Anacostia River and see the Capitol or Washington Monument. Organized trips go to the Smithsonian, sporting and theater events, and the pool for swimming.
(3) Character Building and Life Skills - Older youths enjoy discussion groups where they can express their thoughts, feelings, and be heard, and are challenged to think about life-impacting issues. Practical life skills sessions teach social and emotional coping, financial literacy, and healthy relationships.
Health and Basic Needs - Programs ensure children are healthy with their fundamental needs met to allow them to focus on academics, reduce their stress, and succeed long term.
(1) Food Services - Children receive hot, healthy meals and snacks after school Mon.-Thurs. at the Center (where families also can access an emergency food pantry), and a weekend bag of easy to prepare food.
(2) Basic Needs - Horton's Kids provides new shoes, coats, and hats; backpacks of school supplies; toiletries (e.g., toothpaste and shampoo); and essential items such as diapers (not covered by SNAP benefits or WIC), and wipes and baby formulas.
(3) Mental Health - A partnership with mental health centers provides counseling.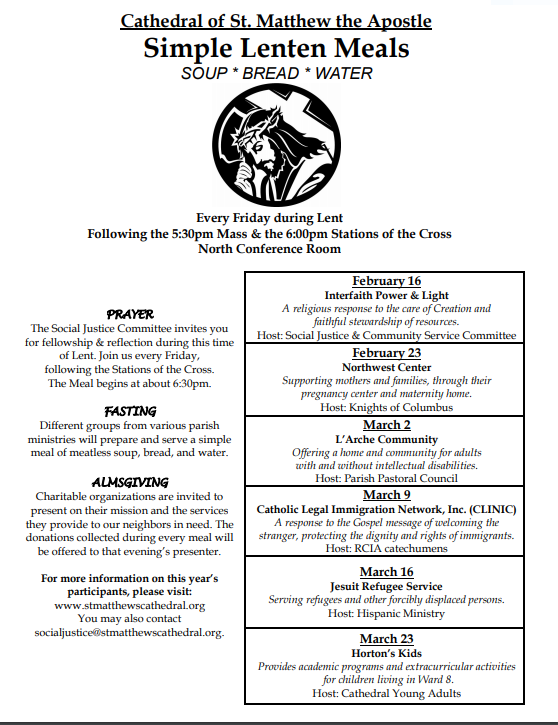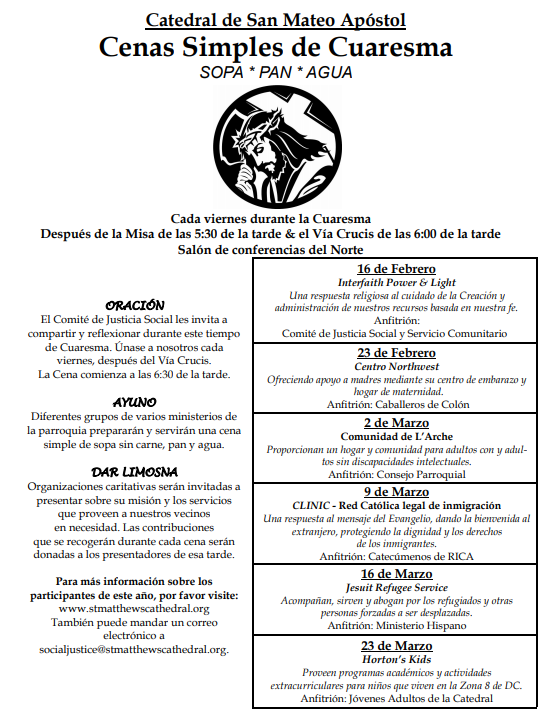 Click here for an overview of our parish outreach programs.