On Tuesday, July 26, the Church
celebrates the memorial of St. Joachim and St. Anne, the two people chosen to be the parents of the Virgin Mary. Images of these two saints are found in the Cathedral—take a moment and take a look!
In the niches of Our Lady's Chapel are statues of St. Anne and St. Joachim with the child Mary (right).
Also in Our Lady's Chapel, the large mosaic (below) to the left of the altar depicts two angels holding back the curtains of time to reveal St. Anne and St. Joachim at the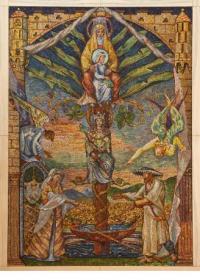 fountain of the golden gate. As described by the artist, Thomas LaFarge, the scene is laid against the glow of the setting sun, symbolic of the advanced years of the two saints. Between them at the bottom of the mosaic flows a fountain. From the fountain springs a genealogical rod at the top of which St. Anne presents her child, Mary, who is to be the mother of Christ.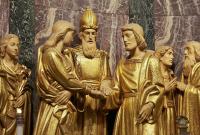 Finally, the statuary (right) in the Wedding Chapel portraying the betrothal of Mary and Joseph shows St. Joachim to the right of Joseph and St. Anne to the left of Mary.
"Praised be Joachim and Anne for the child they bore.
The Lord gave them the blessing of all the nations."