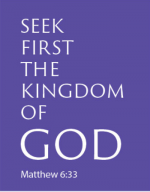 Parishioners were asked in February during our Cardinal's Appeal Commitment Weekend and our Follow-up Weekend to prayerfully consider and respond to this year's Cardinal's Appeal campaign, bearing the theme "Seek first the kingdom of God." (Matthew 6:33)
To those households that have not yet made a pledge, we ask that you please do so now. Your participation is needed if we are to reach the goals for our parish set for this appeal. You may pick up a pledge envelope at the rectory or call the rectory to ask that one be mailed to you.
Thank you for your prayerful consideration and generous response. For those who have pledged, thank you for your support and generosity.