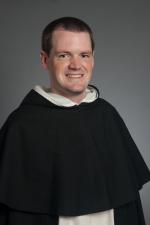 Bro. Thomas Davenport, O.P., a Dominican friar studying for the priesthood and currently assigned to St. Matthew's, was ordained a Transitional Deacon in the Crypt Church of the National Shrine of the Immaculate Conception on Saturday, March 5 at 9am by the Most Rev. Leonard P. Blair, Archbishop of Hartford. Bro. Thomas will complete his theology studies at the Dominican House of Studies this spring and plans to begin a Licentiate in Philosophy at the Catholic University of America this fall. At St. Matthew's, he has worked principally with parents (whose children are in religious education) by leading a Sunday morning seminar, with young adults, and in various capacities as a liturgical minister.
Bro. Thomas was raised in a military family, living in a variety of places before his family settled in Vienna, Virginia. He graduated from the California Institute of Technology, majoring in physics, and went on to earn his doctorate in physics from Stanford University. Since joining the Dominican Order, he has served in homeless shelters, soup kitchens, and hospitals, as an intern at the Archdiocese of Washington, and in campus ministry.
Bro. Thomas has greatly appreciated his time at the Cathedral and will continue to minister here during his final year of initial formation. He will serve as deacon and preach for the first time at the Cathedral's 11:30am Mass on Sunday, March 6, and will preside at our monthly Eucharisitc Holy Hour on Monday, March 14. All are welcome! Please keep Bro. Thomas and all our seminarians in your prayers.