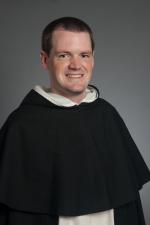 Bro. Thomas Davenport, O.P., a Dominican friar currently assigned to St. Matthew's, will be ordained to the Priesthood on Saturday, May 20 at 9:30am at the Church of St. Dominic in Washington, DC. by the Most Reverend J. Augustine DiNoia, O.P., Adjunct Secretary of the Congregation for the Doctrine of the Faith.
Bro. Thomas was raised in a military family, living in a variety of places before his family settled in Vienna, Virginia. He graduated from the California Institute of Technology, majoring in physics, and went on to earn his doctorate in physics from Stanford University. Since joining the Dominican Order, he has served in homeless shelters, soup kitchens, and hospitals, as an intern at the Archdiocese of Washington, and in campus ministry. Bro. Thomas is currently pursuing a Licentiate in philosophy at the Catholic University of America. At St. Matthew's, he has worked principally with parents (whose children are in religious education) by leading a Sunday morning seminar, with young adults, and in various capacities as a liturgical minister.
Bro. Thomas has greatly appreciated his time at the Cathedral and would like to thank all the St. Matthew's parishioners he has met and come to know over these two years for their encouragement, support, and prayers. Assigned to temporary ministries with the Dominican Order this summer, he will return to Washington this fall to complete his studies. He will celebrate his first Mass of Thanksgiving at the Cathedral on Sunday, May 21 at 11:30am. All are welcome!
---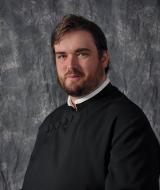 Deacon Stuart Wilson-Smith, C.S.P. is a seminarian studying for the priesthood with the Missionary Society of St. Paul the Apostle (Paulist Fathers). Stu will be ordained a priest on Saturday, May 20 at the Church of St. Paul the Apostle in New York City. Serving at the Cathedral since August 2015, Stu has enjoyed a variety of ministerial opportunities, including service to the Cathedral Young Adults, marriage preparation, and as Coordinator of "Landings," a small group ministry for welcoming returning Catholics.
Stu was born in Kentville, Nova Scotia, and raised in the Province of New Brunswick. Taking up the drums at age 12, Stu played in rock bands throughout his teens and early twenties, eventually forming a band of his own. After high school, Stu began working toward a Bachelor's degree at the University of Toronto, studying History and Philosophy. He took extended breaks to live and work in Ireland (2003-05), and backpack in South and East Africa. After holding jobs in restaurants, security, and musical instrument sales, Stu discerned a vocation as a missionary priest with the Paulist Fathers, entering the Novitiate in 2011. His ministerial experiences have included hospital chaplaincy, campus ministry, and writing for Busted Halo, an online magazine for young adults in their 20s and 30s.
Stu looks forward to his first priestly assignment, serving the students of The Ohio State University as Associate Director of the St. Thomas More Newman Center in Columbus, OH. He is exceedingly grateful for the opportunity to serve the wonderful people of St. Matthew's, and gives thanks for all the ways the parish community has helped to support and form him for the years of priesthood ahead.
Please pray for these men as they begin their priestly ministries!