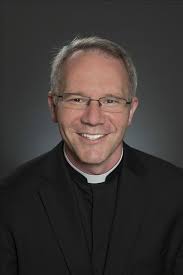 Dear Friends,
In speaking about the joy of the Gospel in his homily for the Chrism Mass during Holy Week, Pope Francis said,
Like Jesus, the priest makes the message joyful with his entire person. When he preaches…he does so with the joy that touches people's hearts with the same word with which the Lord has touched his own heart in prayer. Like every other missionary disciple, the priest makes the message joyful by his whole being. For as we all know, it is in the little things that joy is best seen and shared: when by taking one small step, we make God's mercy overflow in situations of desolation; when we decide to pick up the phone and arrange to see someone; when we patiently allow others to take up our time.
As I prepare for my ordination, the Holy Father's words resonate deeply with me, for it is the joy I have found in knowing Jesus that I want to share with others as a priest. To celebrate the sacraments, particularly the Holy Eucharist, the very source and summit of our Christian lives, Penance, and the Anointing of the Sick, to open up the Scriptures through preaching, to teach our faith in all its breadth and richness, to simply sit with and listen to those who need to talk and offer counsel when I can, to walk with others as we journey together into a deeper relationship with Jesus—the priest serves the Church in these and so many other ways. It is extraordinary to me that the Lord has invited me to give my life to Him in this way!
And part of what is extraordinary is realizing the Lord's patience with me throughout every twist and turn of my life! The Church has been an integral part of life from my childhood. I am so grateful for having grown up with faith and in a family that committed to serving others because of our faith. The Lord planted the idea of the priesthood in me as a teenager, but it took many years to discern intentionally whether this was His desire for me. Yet, through college, my time in the Jesuit Volunteer Corps, and my years in law school and graduate school in public policy, the Lord gave me a deep desire to understand the societal conditions we face together and to live a life of service for others. Through coming to know where He has been present throughout my life and learning to listen to Him speak to my heart, I have come to understand that He has called me to a life of self-emptying service through the ministerial priesthood, to stand in persona Christi so that I can help the faithful share in Christ's own three-fold priestly, prophetic, and kingly ministry.
The past six years in the seminary have been ones of extraordinary grace. Through coming to know better the Lord Jesus, He has given me a deep sense of joy that I want all people to know—a joy rooted in God's infinite and merciful love. This joy gives us hope that no matter what we experience in life, God is always reaching out to us, calling us home, inviting us into His loving embrace. During my time in Washington, I have been blest to call St. Matthew's Cathedral my parish home. The Cathedral has afforded me so many opportunities to deepen my faith, and I will always be grateful for the parish's warmth and openness. I especially thank Msgr. Jameson, all the priests, and Cathedral staff for their kindness to me—they are a remarkable team of people whose love for the Church and St. Matthew's is a great blessing! And I thank you, the parishioners of St. Matthew's, for your prayers and encouragement, and for walking with me on this journey to ordination! Please continue to pray for the four of us seminarians who will be ordained on Saturday, June 17 at 10am at the Basilica of the National Shrine of the Immaculate Conception (and please feel welcome to attend ordination!). Also, please join us for a Eucharistic Holy Hour in the Crypt Church of the Basilica on Friday, June 16 from 6 to 7pm, the evening before ordination. All also are welcome to the Mass of Thanksgiving that I will offer here at the Cathedral, on Saturday, June 17 at the 5:30pm Vigil. God bless you all!
In Christ,
Deacon (now Father) Andrew Wakefield