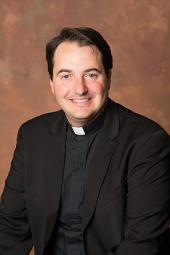 Andrew Clyne is a seminarian studying for the Archdiocese of Washington and in residence here at St. Matthew's Rectory for his summer parish assignment. He served this past year at St. Matthew's, assisting with the Monday morning breakfast ministry, Wednesday night Sacred Page, and as a liturgical minister at the Saturday Vigil Mass. Andrew is scheduled to be ordained to the diaconate by Cardinal Wuerl on Saturday, June 10 at 10am here at the Cathedral of St. Matthew the Apostle.
Andrew was born in Ridgewood, New Jersey, but spent most of his childhood in Orange, California. After graduating from high school, he attended The Catholic University of America, graduating in 2008. From there he pursued further studies in theology, attending Duke University. After earning a masters degree in 2010, he returned to Catholic University, continuing his theological studies. After completing his degree coursework, he entered seminary formation for the Archdiocese in 2012. He has attended St. John Paul II Seminary, and is currently attending Theological College (both in Washington, DC). His previous summer assignments in the Archdiocese have included Our Lady Help of Christians (Waldorf, MD), Blessed Sacrament and Holy Comforter-St. Cyprian (both in DC).
Andrew looks forward to continuing this summer at St. Matthew's, getting to know the parishioners better, and serving them as a deacon.
Please take the opportunity to introduce yourself to Andrew when you see him at Cathedral liturgies and events this summer. Let us keep Andrew in prayer as he prepares for his diaconal ministry.