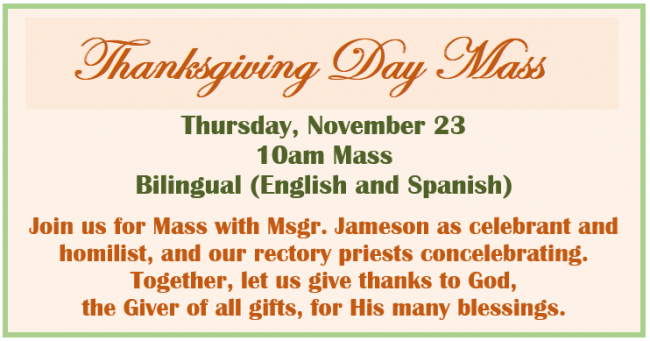 Join us in celebrating a bilingual (English and Spanish) Mass on Thanksgiving Day, November 23 at 10am. Msgr. Jameson will be the celebrant and homilist, with our rectory priests concelebrating.
"Thanksgiving characterizes the prayer of the Church," the Catechism of the Catholic Church teaches, "which, in celebrating the Eucharist, reveals and becomes more fully what she is." Together, let us give thanks to God, the Giver of all gifts, for His many blessings.
Misa del Dia de Acción de Gracias
Les invito a la celebración de la Misa de Acción de Gracias, que será bilingüe, el día 23 de noviembre a las 10:00 de la mañana. Monseñor Jameson será el celebrante y predicador con nuestros padres de la parroquia concelebrando.
"La Acción de Gracias caracteriza la oración de la Iglesia," nos dice el Catecismo, "la cual, cuando se celebra la Eucaristía, revela y expresa en plenitud lo que es". Juntos demos gracias a Dios, el dador de todo bien, por las muchas bendiciones que ha derramado sobre nosotros a través del año.