Free for Parishioners! Register Now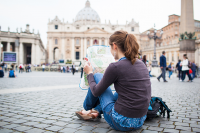 Register now for FORMED, using a parish subscription open to you at no cost!
• Visit formed.org with a web browser
• Click on Register (lower right of page)
• Enter Parish Access Code: QNDBWC
• Enter your email and create a password (you need this to login later)
• Enjoy and share with others in the St. Matthew's community
FORMED - What Content is Available with my Free Subscription?
Find out more about the content on FORMED in the short introductory video, below.