Welcome, Father Conrad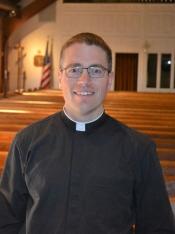 We welcome Fr. Conrad Murphy (Fr. Conrad), who is in residence at St. Matthew's. He comes to us from Holy Redeemer Parish in College Park, MD, where he was
the Parochial Vicar. He is the newly-appointed Director of the Archdiocesan Office of Worship. In addition to his responsibilities there, Fr. Conrad will assist at the Cathedral as a celebrant at daily and Sunday Mass.
Fr. Conrad grew up primarily just outside of Chicago, the eldest of three children. He moved to Washington in 2005 to attend the George Washington University where he graduated in 2009 with a B.A. in International Politics and the Program in the Liberal Arts. While at GW, Fr. Conrad was very involved with the Knights of Columbus and GW Newman Center. He entered the seminary for the Archdiocese of Washington in 2009. He earned an MA in Philosophical Studies at Mount Saint Mary's University, and an STB in 2014 the Pontifical North American College in Rome. He was ordained a priest by Cardinal Wuerl in 2015, spending the summer after ordination at St. Pius X in Bowie and then returning to Rome for a final year of studies culminating in an STL in Moral Theology.

On a more personal note, Fr. Conrad is an avid reader, cross country runner, and ultimate Frisbee player.
Please give him a warm welcome, and keep him and Fr. Agustín López, our new Parochial Vicar, in your prayers.