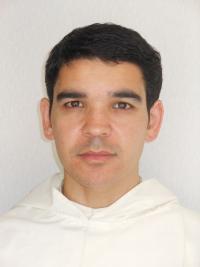 Let us keep in our prayers Br. Antoninus Maria Samy, O.P. , a Dominican friar currently assigned to St. Matthew's who will be ordained to the diaconate on Saturday, March 10.
Br. Antoninus was born and raised in Melbourne, Australia. At the University of Melbourne he majored in economics, mathematics and statistics, and at the University of Oxford he completed a doctorate in economic history as a Clarendon scholar. After working for a year as a postdoctoral research fellow, he left academia to enter religious life, first as a Dominican volunteer in the slums of the Philippines, and then as a novitiate of the St Joseph's Province of the Dominicans.
Br. Antoninus is studying for the priesthood at the Dominican House of Studies and will be ordained a deacon on Saturday, March 10 at the Basilica of the National Shrine of the Immaculate Conception. He assists in a number of ministries at the Cathedral, including RCIA, parents' catechism, and the Sacred Page Bible study. Br. Antoninus will serve as a deacon at our 11:30am Mass on Sunday, March 11, and will preside at our Eucharistic Holy on Monday, March 19, the Feast of St. Joseph. Please welcome and introduce yourself to Antoninus as you see him.
Interested in the RCIA process at St. Matthew's? Find out more.