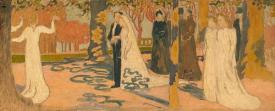 The annual jubilarian celebration of marriage honoring couples married 25, 30, 35, 40,45, 50 and 50+ years will be held Sunday, June 17, 2018 at 2pm, at the Basilica of the National Shrine of the Immaculate Conception. Cardinal Wuerl will be the Mass celebrant.
Couples who register by Monday, April 16 will receive a personalized certificate from Cardinal Wuerl after the Mass. To register from St. Matthew's, call 202‐587‐5143 or email your request to us at mhurley@stmatthewscathedral.org and provide the following information.
Your choice of couple names as they will appear on the certificate:
Option 1: Mr. and Mrs. [husband's first name] [surname]
Option 2: [husband's first name] and [wife's first name] [surname](If you have two different surnames, please let us know.)
No. of years married
Address including zip code
Phone no.
Email address
Attending the Jubiliarian Mass: Yes or No?
Read Pope Francis' Amoris Laetitia, The Joy of Love and Cardinal Wuerl's Pastoral Plan to implement it.