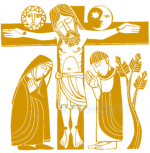 View and share the English Lenten brochure.
Vea y comparta el folleto de Cuaresma en español.
Let Us Seek the Lord, our God!
You shall seek the Lord, your God, and you shall indeed find him when you search after him with your whole heart and your whole soul. (Deuteronomy 4:29)
Join your parish family and friends as we seek the Lord this week in all ways during thissecond week of Lent, including over coffee!