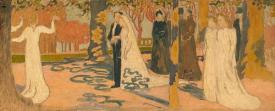 The annual jubilarian celebration of marriage honoring couples married 25, 30, 35, 40,45, 50 and 50+ years will be held Sunday, June 17, 2018 at 2pm, at the Basilica of the National Shrine of the Immaculate Conception. Cardinal Wuerl will be the Mass celebrant.
Two couples registered from St. Matthew's this year, and will receive a personalized certificate from Cardinal Wuerl after the Mass. All are welcome to attend this celebration of marriage at the Shrine.
If you will celebrate one of these milestone anniversaries in 2019, plan now to celebrate with other jubilarians from the Church of Washington. Check back next year for information on how to register for the June 2019 celebration!
Read Pope Francis' Amoris Laetitia, The Joy of Love and Cardinal Wuerl's Pastoral Plan to implement it.