Msgr. Jameson invites you, your relatives and your friends to join St. Matthew's November 2018 Pilgrimage to Mexico City and the Shrine of Our Lady of Guadalupe. This 6-day trip, November 7 - 12, 2018, promises to be an exciting, enjoyable and spiritually uplifting experience for all. Registration and final payment is needed by October 1, 2018.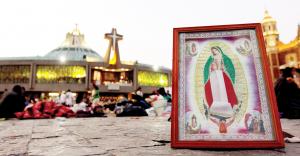 See the roses of the Tepeyac at the Shrine of Our Lady of Guadalupe, which we will visit twice, at both the beginning and end of our pilgrimage. Other churches on our route are the Church of Santiago Tlatelolco, and the Metropolitan Cathedral, the oldest and largest church in Latin America. In the Plaza de Santo Domingo, we will visit the Shrine of Santo Domingo and the Shrine of Our Lady of the Rosary, Holy Family Church (the resting place of the Jesuit martyr, Fr. Augustine Pro), and the Church of the Fifth Apparition of Juan Diego.
Also on our itinerary are museum trips and a visit to Coyoacan, where we will visit the Church of St. John the Baptist with its seven chapels, and enjoy the plaza and this locale's popular ice cream.
For more details, pick up a color brochure with registration form at the rectory office, or view and print the online brochure.