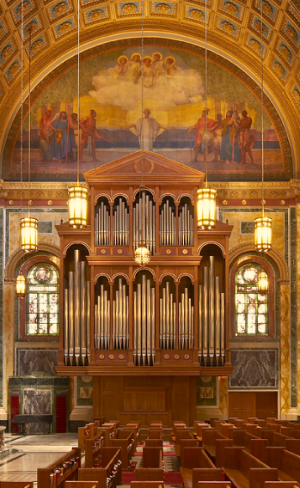 2018 Completion Work Update
Twenty-three years ago, the first phase of the installation of the Great Organ of the Cathedral was begun. Although it is visually impressive and appears complete, only 2/3 of the pipes were installed at that time. Even in its incomplete state, it was hailed as one of the most impressive pipe organs in the region and is perfectly enhanced by the acoustics of our Cathedral.
Six years ago, we began a campaign to complete the organ. Within three years we met our goal. We were very fortunate to engage the original builder, Lively-Fulcher Organ builders, to complete the instrument.
On June 25, a partial dismantling of the current organ began. New structural supports for the new chests were installed in the week of August 5. During the week of September 17, there was a flurry of activity as pipes and chests arrived and installation four new manuals and the balance of the new pipes began. The work continued through October, and much of it will be accomplished by mid-November. In its current state, you will see scaffolding and some façade pipes missing. When the organ is complete later this year, you will notice dozens of sounds that you have never heard before. It will be as if whole sections of an orchestra that have been silent are now playing!
None of this would have been possible without the generous support of hundreds of parishioners and friends who have embraced the vision of a completed instrument and sacrificed to make it possible.
If you have questions about the completion of the organ, you may contact Tom Stehle at tstehle@stmatthewscathedral.org who will try to answer them in our planned monthly updates.
Dedication Concert and Recital
When the Great Organ is complete, it will be one of the most important pipe organs in the Mid-Atlantic. We plan to celebrate the completion of the organ with a dedicatory recital and a series of concerts throughout the following year. Please watch for information about opportunities to help us fund these celebrations. If you have any interest in helping us financially as we plan for these festivities, please contact Tom Stehle at the email address above.