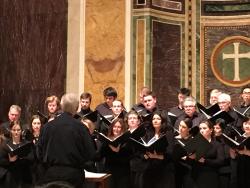 Each year we invite experienced singers of the parish to join the Schola Cantorum for our Advent Lessons and Carols and Christmas Eve Choral Prelude and Mass. Singers must be able to attend all rehearsals for an event but are not obligated to sing on both dates. We look for singers with an ability to read music, a pleasant voice, previous choral experience, and a commitment to work diligently and cooperatively. Th schedule of rehearsals, shown below, includes most Mondays and Wednesday, beginning Monday, December 3.
Mondays, December 3 and 10, 7-9pm: Rehearsal
Wednesdays, December 5 and 12, 8-9pm: Rehearsal
Sunday, December 16, 7:30–9pm: Advent Lessons and Carols (6:30pm arrival)
Monday, December 17, 7-9pm: Rehearsal
Wednesday, December 19, 7-9pm: Rehearsal
Monday, December 24, 9:15pm Prelude; 10pm Mass (8pm arrival)
To schedule an audition or for more information, contact Tom Stehle at tstehle@stmatthewscathedral.org or 202-587-5141.