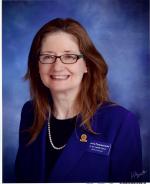 Greetings, I am Theresa Prymuszewski (Pri moos chev' ski) and I serve at the Cathedral of St. Matthew the Apostle as your Pastoral Associate for Faith Formation. I bring over twenty years of parish and diocesan pastoral experience. I feel strong roots in the D.C area since so much of my own formation took place at the Washington Theological Union, where I earned a second Master's Degree in Theological Studies with a concentration in spiritual direction. I earned additional certificates in Carmelite Studies and Spiritual Guidance. I have served at four Maryland parishes. My first Master's Degree is in Counseling from the University of North Carolina in Greensboro. My undergraduate degree is in Religious Studies and Philosophy from Caldwell, a Dominican College in New Jersey where I am from.
Evangelization, exploring ways to know, love and share our Catholic Faith is the primary focus for my life. The synthesis of these experiences expresses my deep desire and commitment to serve God's people. This commitment became very personal for me as I was one of the first to become a Certified Lay Ecclesial Minister through the United States Catholic Conference of Bishops.
I am thrilled to be part of our faith community at the Cathedral. I joyfully look forward to getting to know and serve you, my sisters and brothers in Christ Jesus.