The Cathedral of St. Matthew the Apostle is architecturally and artistically among the most important ecclesiastical buildings in the United States. Designed in the Italian Renaissance style, it includes Romanesque and Byzantine influences.
The classic exterior walls are brick and sandstone, with stone, terra cotta and marble decorating the main facade. The church entrances are three sets of large, bronze doors flanked by eight paired Corinthian columns. Above the main center door of the Cathedral is the mosaic containing the image of St. Matthew and a book symbolizing the gospel he wrote as evangelist. Atop the Cathedral rising above an eight-sided lantern, the cross above the copper dome reaches a height of 200 feet.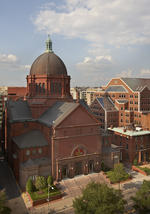 The structure is in the form of a Latin cross 155 feet long and 136 feet wide at the transepts. The large windows are translucent alabaster, the smaller are onyx. A great coffered-barrel vault covers the nave, seating about 1000 people.
Christopher Grant LaFarge was the principal architect, Edwin H. Blashfield was the principal artist for the mosaics and murals; Grace Edith Barnes executed their installation.