Altar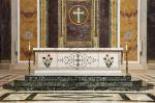 The altar, also known as the table of the Eucharist, is made of white marble, decorated with inlaid floral designs of semi-precious stones characteristic of palaces and monuments of India, and was procured by James Cardinal Gibbons collaborating with the Archbishop of Agra, India. Agra is the location of the Taj Mahal.
Patronal Mosaic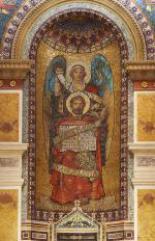 On the rear wall of the sanctuary wall is the focal mosaic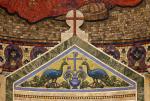 of the parish/cathedral patron, St. Matthew and his symbolic representation, an angel, imposed over a purple marble panel containing a white marble cross and green marble roundel. The pediment mosaic includes two peacocks, symbolizing paradise and eternal life, on either side of the Greek symbol of Christ (the chi-rho). The design recalls those of early Christian churches in Ravenna, Italy. The lunette above the St. Matthew mosaic

includes many symbols of Christ, his passion and the heralds of his gospel. A small squirrel in the lower right of the lunette refers to Monsignor Lee, whose family coat-of-arms included this symbol of steadfastness and hope.
Cathedra (Seat)
The marble chair to the left of the altar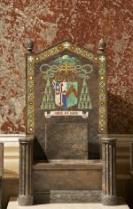 is the seat of the archdiocese and is used by the Archbishop when he presides at liturgies in the Cathedral. Imposed on the chair is the coat of arms of the first Archbishop of Washington, Michael Curley. On either side of this chair are smaller chairs used by the deacons who assist the Archbishop when he presides.

Ambo (Pulpit)
To the congregation's right from the sanctuary is the ambo, also known as the table of the Word, made of white marble decorated with exquisite gilded cosmati (mosaic and marble inlay). The ambo is the counterpart to the altar and is used for the reading of sacred scripture, the homily and the intercessions that form the Liturgy of the Word. This elevated ambo is generally used when the Archbishop presides. Its height derives from the time when there was no amplifying sound system and its elevation enabled the assembly to hear the spoken word. On the main floor of the sanctuary is a smaller ambo, presently used for all other regular liturgies.
Entry Rail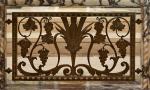 The railing that marks the location of the sanctuary from the main nave of the Cathedral is fabricated of carrara marble and bronze metalwork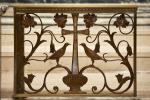 depicting wheat and grapes, the symbols of the eucharistic bread and wine; the two open gates each contain a cross.