Sun., November 1, 2015 12:00pm ·
On Sunday, November 1, the Solemnity of All Saints, we will celebrate the 175th Anniversary of the founding of our parish with a special bilingual Mass at Noon, combining the 11:30 a.m. and 1:00 p.m. Masses. Cardinal Donald Wuerl will be the principal celebrant and homilist. Please mark your calendars and spread the word. Pope Francis favored us with a visit during our 175th Anniversary year, so let's gather to remember him and all that has happened in the parish for the past 175 years. We have so much to be grateful for, first among our blessings being YOU, our faithful parishioners. All that we do is because of your generosity of time, talent, and treasure. Let's join together as a family on this special day.
¡Celebremos nuestro 175 Aniversario de la Parroquia en el Día de Todos los Santos!
El domingo 1 de Noviembre, Solemnidad de Todos los Santos, celebraremos el 175 Aniversario de la fundación de nuestra parroquia con una Misa especial bilingüe a las 12 del mediodía, combinando las Misas de 11:30 y 1 de la tarde. El Cardenal Donald Wuerl será el celebrante principal y predicador. El Papa Francisco nos favoreció con su visita durante nuestro 175 Aniversario, por lo tanto, unámonos para recordarle y todo lo que ha pasado en la parroquia en los últimos 175 años. Tenemos tanto por lo que estar agradecidos, primero nuestras bendiciones son USTEDES, nuestros fieles feligreses. Todo lo que hacemos es debido a su generosidad de tiempo, talento y tesoro. Unámonos como una familia en este día especial.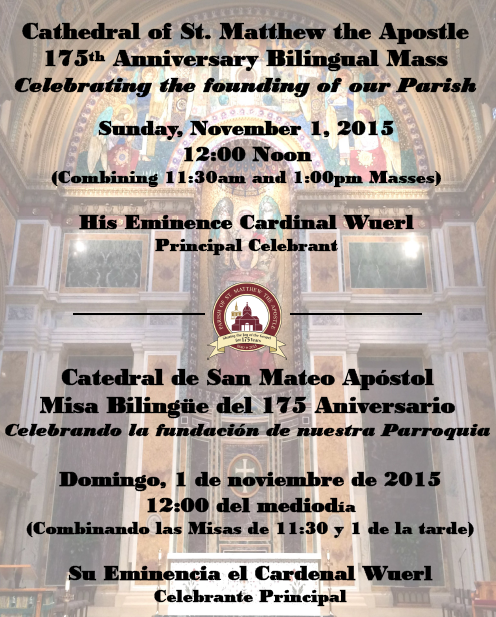 A Season of Remembrance
On All Souls Day, celebrated on Monday, November 2, we commemorate deceased family members and loved ones who await their purification in Purgatory. The Church teaches that some sins can be forgiven even after death (CCC 1031). While these departed souls can pray for us, they can no longer pray for themselves. That spiritual work of mercy is up to us. We are encouraged to pray for our departed loved ones and all souls who await the resurrection of their bodies in Christ. Cardinal Wuerl will celebrate our 12:10pm Mass.
We remember our deceased loved ones in a special way throughout the month of November. Each day a Mass is offered at the Cathedral for this intention. Envelopes are provided in the pews so that you can list the names of the deceased to be remembered at these daily Masses. The envelopes, which can be dropped in the collection basket or at the rectory, will be placed on the altar in the Wedding Chapel.
Una época para Recordar
En el día de todas las almas, que se celebra el lunes 2 de noviembre, conmemoramos a nuestros familiares difuntos, que esperan su purificación en el Purgatorio. La Iglesia nos enseña que algunos pecados son perdonados, aún después de la muerte. Estas almas pueden rezar por nosotros, pero no pueden hacerlo por ellas mismas. Ese trabajo de misericordia se queda para nosotros. Se nos anima a que recemos por nuestros difuntos y todas las almas que esperan la resurrección de sus cuerpos en Cristo. El Cardenal Wuerl celebrará la misa ese día.
Recordamos de una manera especial a nuestros difuntos en el mes de noviembre. Cada día una misa será ofrecida en la Catedral por esta intención. Encontrarán sobres en los bancos para que ustedes puedan poner los nombres de sus difuntos que se recordarán en estas misas diarias. Los sobres pueden echarse en la cesta de la colecta o traerlos a la rectoría y luego se pondrán en el altar de la Capilla Nupcial.