Mon., January 9, 2017 6:30pm ·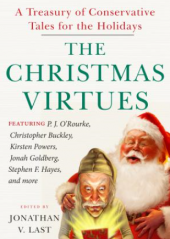 On Monday, January 9 from 6:30 to 8pm, all are welcome for a discussion of The Christmas Virtues: a Treasury of Conservative Tales for the Holidays, a series of 19 essays edited by Jonathan Last, a friend and former parishioner of St. Matthew's.
The book is "a humorous companion for, and guide to, navigating the trials and tribulations of the holiday season. It's a reminder of how we can embrace the joy, hope, and love of Christmas---of the 'real' Christmas." Certainly it is not necessary to have read all of the essays to participate.