Fri., April 21, 2017 2:00pm ·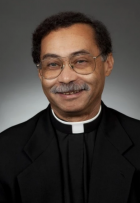 Bishop-elect Roy Campbell will be ordained as Auxiliary Bishop of Washington at the Cathedral of St. Matthew the Apostle on Friday, April 21 at a Mass of Ordination beginning at 2pm.
On April 21, the Cathedral will close after the 8am Mass and will reopen at 12pm. There will be no confessions or 12:10pm Mass. Seating for the Ordination Mass will be will be very limited due to the large number of reserved seats for the clergy, family and friends of Bishop-elect Campbell.
On March 8, Pope Francis has named Rev. Roy Edward Campbell, Jr., pastor of St. Joseph Church in Largo, Md., as an auxiliary bishop of Washington. Bishop-elect Campbell will assist Cardinal Donald Wuerl, Archbishop of Washington, who serves as spiritual leader to over 620,000 Catholics living in Washington, D.C. and suburban and southern Maryland. Read the Cardinal's statement.
Please pray for our newly-appointed bishop as he undertakes this important pastoral responsibility in our Church.