Mon., November 13, 2017 6:45pm ·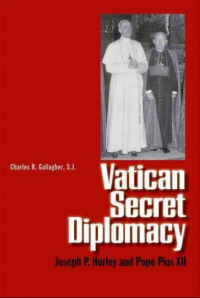 The next work for discussion by the Cathedral Book Club will be Vatican Secret Diplomacy by Charles R. Gallagher, S.J. This is a revealing study of secret U.S.-Vatican dealings, with focus on the relationship between Joseph P. Hurley, the first American to achieve the rank of nuncio, and Pope Pius XII before, during and after the Second World War. Hurley subsequently became Bishop of St. Augustine.
The meeting will be held in the West Conference Room on Monday, November 13 from 6:45 to 8:00 pm.