Fri., March 30, 2018 (All day) ·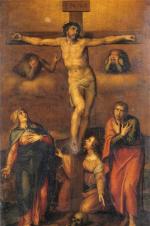 Rev. Gabriel Myers, OSB, Principal Musician and Junior Master for St. Anselm's Abbey,will deliver a Reflection on the Lord's Passion, joined by St. Matthew's Schola Cantorum, at Noon on Good Friday, March 30, followed at 1pm by the Liturgy of the Lord's Passion, with Cardinal Wuerl presiding.
Confessions in English and Spanish will be available from 11am until the Noon Reflection.
Schedule for Good Friday
9:00am: Morning Prayer, St. Anthony Chapel
11:00am to Noon: Confessions
Noon: Reflection on the Lord's Passion, Rev. Gabriel Myers, OSB
1:00pm: Liturgy of the Lord's Passion, Donald Cardinal Wuerl (Schola Cantorum)
4:00pm: Liturgia de la Pasión de N.S. Jesucristo, Adoración de la Santa Cruz, Y Santa Comunión, Bishop Mario Dorsonville
7:30pm: Stations of the Cross (in English)