Thu., August 29, 2019 10:00am ·
Join us on Thursday, August 29 at 10am for a commemorative Mass of Thanksgiving marking the 75th Anniversary of the Liberation of Paris, organized by the First Alliance Foundation. The ScholaCantorumwill provide music using works from French sources throughout, including those of Maurice Duruflé, Francis Poulenc, Louis Bourgeois, Jacques Berthier, Michel Guimont, César Franck, Gabriel Fauré, Henri Villette, Lucien Deiss and a hymn from the Paris Antiphoner,1681.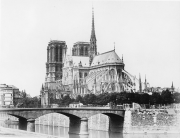 The Liberation of Paris (also known as the Battle for Paris and Belgium (Libération de Paris) was a military battle that took place during World War II from August 19, 1944 until the German garrison surrendered the French capital on August 25,1944. The Free French diplomatic mission to the United States in Washington, DC held a Thanksgiving Mass at the Cathedral on August 26,1944 to commemorate the liberation of Paris by Allied forces (including both American and French military units), and to honor Free French resistance organizations inside France and the people of Paris. General Charles de Gaulle, military leader of the Free French who became on August 26, 1944 the president of the Provisional French Government, held a Mass that day at Notre Dame Cathedral in Paris.
The commemorative 75th anniversary Mass will be celebrated on August 29 because it was on that date in 1944 that American military marched on the Champs Elysees in support of the new French Provisional Government. On that evening, there also will be a commemoration at the National WWII Memorial and a concert following at a location to be announced.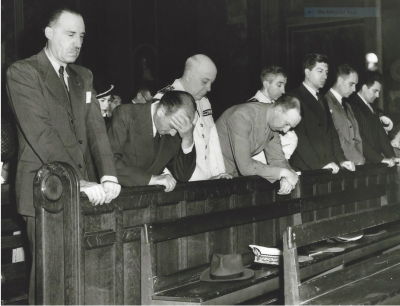 Photo taken inside St. Matthew's Cathedral during Mass celebrated on August 26, 1944 in thanksgiving for the liberation of Paris. Left to right are: Henri Hoppenot, French Delegate to the United States; Jean Monet, Commissioner of Free French Committee; Admiral Raymond Fenard, Chief of the French Naval Mission; Major General August de Saint Didier, Chief, Free French Military Mission; Brigadier General Charles Luguet, Chief of the Free French Air Mission; Mr. Christian Valensi, Free French Supply Minister; and Mr Phillippe Baudet, Free French Counsellor.