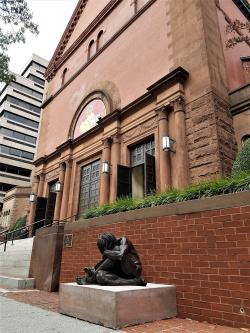 The parish of the Cathedral of St. Matthew the Apostle in Washington, DC, a 2,400-household Roman Catholic community, seeks a full-time (40 hours per week) Social Justice Ministry Coordinator to assist the clergy supervisor in coordinating and developing the parish's Social Justice & Community Service Ministries.
Responsibilities
Responsibilities include communicating with volunteers and staff, supporting/working with volunteer coordinators, financial and other recordkeeping, handling correspondence, preparing bulletin/pulpit/website/flyer announcements, assisting at the weekly homeless ministry (Monday Morning Ministry), assist in fundraising efforts, inventorying and ordering supplies for all ministries under Social Justice, responding to financial assistance appeals, offering referrals for social service providers, and assessing emergency financial assistance requests with their supervisor.
Requirements
At least a Bachelor's degree is required for this position. Candidates must have excellent organizational skills, demonstrated ability to work well with a diversity of people, proficiency in emailing, word processing, and spreadsheet creation, and a general understanding of and strong commitment to the social teachings of the Catholic Church with special concern for the poor, the homeless, immigrants, and upholding respect for human life from conception to natural death, care for creation, and advocacy for the marginalized. A bilingual speaker/writer (English/Spanish) is strongly preferred as many of those we serve, and serve with, are Spanish-speaking. Familiarity with local social service providers is a plus.
Start date
Desired start date is July 1, 2022.
To apply
To apply, submit cover letter, resume, and three references to Fr. John Benson, Cathedral of St. Matthew the Apostle, 1725 Rhode Island Ave. NW, Washington, DC, 20036 or by email at jbenson@stmatthewscathedral.org.