We recently received great news from one of the students in St. Matthew's ESL (English as a Second Language) program, Brazilian Mariana Zanona Guandalini, who is currently a Level 5 student in the program! Mariana (pictured below in the center, with a friend from the ESL program an another from the SSL program) recently sat for the TOEFL (Test of English as a Foreign Language) exam and received an excellent score, much higher than the minimum score needed to pursue the Master's degree program she is aiming for. The TOEFL has become an admission requirement for non-native English speakers at many English-speaking colleges and universities. Mariana is very excited about her success and looks forward to starting her graduate program in human resources.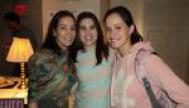 "This is the second semester that I am taking classes at the ESL Program, and during this time I have been learning and practicing a lot about English Grammar and the four skills - reading, listening, speaking and writting. My teacher, Thomas, is very competent and committed with the classes and the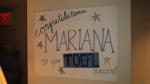 students. I feel so happy that I have found this ESL Program, where I could improve my knowledge in English, meet nice people from different countries and feel more confident to take the TOEFL and get the score that I need to apply for a Master's Program."
Thanks to all of our volunteers who so generously devote many hours and great efforts to ensuring that we have strong ESL and SSL (Spanish as a Second Language) programs. This semester we have a total of 88 registered students across the five ESL and one SSL classes.Our students have come from 35 countries, with half of our ESL students from countries in Latin America. It is your hard work that contributes to successes like Mariana's.

Volunteer teachers and tutors are always needed for our ESL and SSL programs. If you are not comfortable teaching a class on your own, we can pair you with a more experienced teacher. If you are interested in volunteering, please contact the ESL and SSL Program Coordinator at Krista.l.cox@gmail.com.