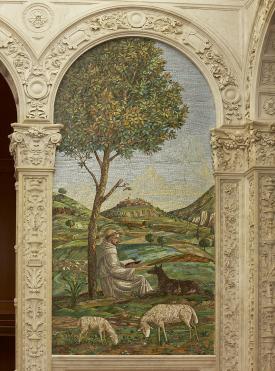 As morning breaks I look to you, O God, to be my strength this day. (Psalm 63)
Enjoy a moment of solitude anytime among mosaics of Sts. Francis, Clare and Bonaventure in the St. Anthony Chapel!
Morning Prayer, one of the offices of the Liturgy of the Hours, is prayed on Tuesdays and Fridays at 7:30am in St. Anthony's Chapel. We gather to give praise for a new day and all that is yet to be, relying on the Holy Spirit who unites the Church at prayer. Feel free to join this small group. Prayer leaflets are available each day.
Visitors and drop-ins are welcome! Come and enjoy a few moments of communion with the Lord, surrounded by mosaics of the Umbrian hill towns of Italy with St. Francis, St. Clare, St. Anthony and St. Bonaventure, and underneath the mosaics, the words of St. Francis' "Canticle of the Sun." You are most welcome to be present even if you do not join in the prayer. Questions? Call 202-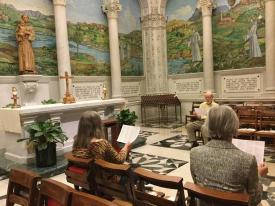 587-5143.
More on Morning Prayer
"As is clear from many of the elements that make it up, morning prayer is intended and arranged to sanctify the morning. St. Basil the Great gives an excellent description of this character in these words: "It is said in the morning in order that the first stirrings of our mind and will may be consecrated to God and that we may take nothing in hand until we have been gladdened by the thought of God, as it is written: 'I was mindful of God and was glad' (Ps 77:4 [Jerome's translation from Hebrew]), or set our bodies to any task before we do what has been said: 'I will pray to you, Lord, you will hear my voice in the morning; I will stand before you in the morning and gaze on you' (Ps 5:4-5)."
"Celebrated as it is as the light of a new day is dawning, this hour also recalls the resurrection of the Lord Jesus, the true light enlightening all people (see Jn 1:9) and "the sun of justice" (Mal 4:2), "rising from on high" (Lk 1:78). Hence, we can well understand the advice of St. Cyprian: "There should be prayer in the morning so that the resurrection of the Lord may thus be celebrated" (GILH, no. 38).
(excerpt from the USCCB webpage on the Liturgy of the Hours)
Images from the St. Anthony Chapel