Health and Wellness Fair 2015
St. Matthew's annual Health & Wellness Fair will take place on Sunday, September 13, 9:30am - 3:30pm. The fair will offer educational information in English and Spanish and simple health exams to help promote good health.
Areas to be covered include: vision, bone density, women's health, balance and strength, mental health, blood pressure, cholesterol, diabetes, cancer prevention, dental health, physician consultation, and flu shots.
The Health Fair will take place inside the Cathedral's North and East Conference Rooms, with a vision-van also parked in front of the church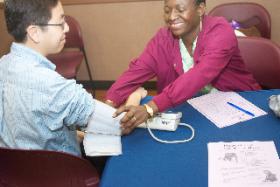 (1725 Rhode Island Ave. NW / Metro Red Line to Dupont Circle or Farragut North).
For more information and to learn about volunteer opportunities, contact Gregg Glotnis at gglotnis@verizon.net.
Feria de la Salud y el Bienestar de 2015
La Feria de la Salud y el Bienestar de San Mateo se llevará a cabo el domingo, 13 de septiembre, de 9:30 de la mañana a 3:30 de la tarde. La feria ofrecerá de información educativa en inglés y español, junto con algunos exámenes simples de salud.
La feria de salud cubrirá los siguientes áreas de interés: visión, densidad ósea, salud de las mujeres, la fuerza y el equilibrio, salud mental, presión arterial, colesterol, diabetes, la prevención del cáncer, salud dental, consulta con un médico, vacunas contra la gripe y más.
La Feria de Salud se tomará a cabo en los Salones del Norte y Este de la Catedral, con un van de servicios de visión estacionado frente a la iglesia (1725 Rhode Island Ave. NW / Metro línea Roja a Dupont Circle o Farragut North).
Para información adicional, póngase en contacto con Gregg Glotnis al gglotnis@verizon.net o puede llamar a la rectoría al 202-347-3215.