The 175th Anniversary of our parish, which we celebrated in 2015, is best marked by the inspirations, gratitude, joy, and power of faith. Your stories and those of your ancestors reflect how St. Matthew's Parish and the Church have shared the joy of the Gospel in downtown Washington, DC for almost 180 years. Enjoy these shared memories and stories!
Our Currently Featured Memories
Monsignor Thomas Sim Lee, Builder and first Pastor of St Matthew's Church on Rhode Island Avenue
Thomas Sim Lee (1745-1819) was the first Governor of Maryland during the American Revolution. His wife, Mary Digges Lee, provided blankets, clothes and other supplies to the Maryland Colonial Troops.
Monsignor Thomas Sim Lee (1842-1922) was Gov. Lee's Great Grandson, and the builder and first pastor of St. Matthew's Church at its present location on Rhode Island Avenue. Subsequently, it became the Cathedral of Saint Matthew the Apostle when Washington became a separate diocese in 1939.
Msgr. Lee was a priest of the Archdiocese of Baltimore and had undertaken extensive travel in Europe and elsewhere in the world to study church architecture, meanwhile gaining approval and support for the new church from James Cardinal Gibbons the then Archbishop of Baltimore.
I came to live in the Parish 50 years ago with my Grandmother, who by then was raising myself and four of my five brothers.Through my Grandmother I am a direct descendant of Msgr. Lee's family, one that includes Richard Henry Lee (1732-1794) and Francis Lightfoot Lee (1734-1797) signers of the Declaration of Independence, as well as General Robert E. Lee (1807-1870), whose mother was Anna Carter.
Msgr. Lee was also a Great Grandson of another Signer of the Declaration of Independence, Charles Carroll of Carrollton (1737-1832). The Saint Anthony Chapel in our Cathedral is dedicated to his memory.

—Charles Carroll Carter
Note: Since this memory was written, a plaque memorializing Charles Carroll and his relationship to St. Matthew's was installed in the marble at the north entrance to the St. Anthony Chapel. A photo of the plaque will be added here shortly.
Beautiful Memories
I say to everyone I know, if you grow old without beautiful memories you will have a sad old age.
I'm 85 years old and I am so fortunate to have many beautiful memories, especially about St. Matthew's Church and Club. I was 20 years old when a friend sent me to St. Matthew's Club on N Street, NW. It was there that I met the most beautiful people. I had many friends and I met my husband at the dances we had every Saturday night. I lived across the street at 1712 Rhode Island Avenue and was fortunate to be able to attend Masses at all times. I practically lived at St. Matthew's. As a child growing up, we didn't have the luxury of going to Mass. However, my father could recite it all – in Latin – while shaving on Sunday morning.
Monsignor Quinn and Monsignor Awalt both officiated my wedding on November 9, 1957. My husband Carl died on November 20, 2011. He practiced law for over 60 years in Washington. We had six beautiful children and nine grandchildren. I now live with the most beautiful memories every day of my life. Thank you St. Matthew's!
– Lee Morano (nee Leone)
God's Mysterious Ways

On the hot, summer day of July 4, 1961, a 28 year-old Clevelander arrived in Washington on a wing and a prayer to begin a temporary job with the District of Columbia government. Ensconced in the Chastleton Apartments, I found and registered at the nearest Catholic church, St. Matthew's Cathedral. In the Sunday bulletin, I saw an announcement about a social being given by its Young Adult Club, a very active and some would say boisterous group! Becoming an active member, I ultimately became the club president. Through the club, I met my wife (Eileen) in 1962. Our first child baptized was baptized at St. Matthew's in 1964. During the 70'and 80's, when Msgr. Jameson and I served on the Archdiocesan Liturgy Commission, I
often met with Msgr. in the basement of the old rectory and attended Commission meetings in the rectory with Cardinal Baum. In the late 90's, I became associated with St. Matthew's when, as a permanent deacon, I was one of the readers for the Passion during the Holy Week liturgies. Not long after, persuaded by Msgr. Jameson, I was reassigned by the Archdiocese from St. Joseph's on Capitol Hill to join the staff of St. Matthew's, helping with liturgies and with the sacraments of baptism and marriage. God works in mysterious ways in my life journey, starting here at St. Matthew's and then probably ending with my diaconal ministry. Who would have foretold this in 1961, when I left my home in Cleveland?
– Deacon Bart Merella
---
St. Matthew's Memory Archive
A Place of Welcome, a Place of Kindness
Shortly after I moved to Dupont Circle, my mother and sister visited from out of town for a weekend. On a very hot Sunday morning, we came to the Cathedral for Mass. We arrived early and were enjoying the cool and relatively quiet atmosphere of the church. A homeless man came in and settled comfortably in the front pew. After a few minutes he pulled out a cigarette and was getting set to light it. A cathedral usher appeared out of nowhere and leaned down to talk to the man in a low and gentle voice. The man got up and together with the usher calmly walked down the center aisle. I remember being impressed with the respectful way this situation had been handled. I sensed that I was going to be comfortable in this community of strong faith as well as practical compassion.
– Betty Sullivan
---
A Day to "Praise and Bless the Lord"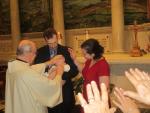 St. Matthew's Cathedral touches my life in many different ways. One memory that stands out, though, is my daughter's baptism in September 2014.
We named our daughter Francesca for many different reasons, never imagining she would be baptized in the St. Anthony chapel surrounded by St. Francis' Canticle of the Sun.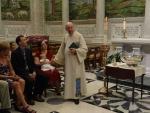 Friends and family came in from around the United States. We started a little late, because it took time to round up our guests who were busily exploring the side chapels and historical markers in the church. Thanks to my service on the St. Matthew's Parish Pastoral Council, I befriended Sherri Hughes, who became her godmother. Sherri's service to St. Matthew's already provides a wonderful example for Francesca to emulate. During his remarks, Msgr. Jameson challenged all of us - not just Francesca - to follow Pope Francis' example of service and love. He found a way to speak to all of our family and friends, even those who were not Catholic or had never attended at Catholic baptism before. Everyone felt included.
While she may be too young to remember her baptism, for us that day will always be one to "praise and bless the Lord and give thanks," as well as a reminder to "serve Him with great humility."
– Carmen (Iezzi) Mezzera
---
Kate Smith's Funeral, 1986

As the Cathedral of the Washington Archdiocese, St. Matthew the Apostle has seen many marriages or funerals of famous people connected with either our nation or with our capital city.
As a longtime lector, I have had the privilege of proclaiming the Word of God at several liturgies. I happened to stop into the Cathedral one Saturday morning in 1986 and was surprised at the crowd waiting for Mass to begin. I learned that it was the funeral mass for the legendary radio and television musical star, Miss Kate Smith. I went into the sacristy and was informed by the celebrant of the Mass that there was no lector. Having read at funerals before, I was prepared for any readings he selected. At the end of the Mass, without any direction, the entire Cathedral broke out into God Bless America, Miss Smith's signature song. It was a memorable day!
– John Klenert
---
Many Saints Have Passed Through Its Doors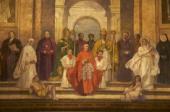 As a member of the parish, from 1922 when I was born, to 1952 when I moved away, I was actively involved with St. Matthew's. For 10 years I was an altar boy, and for another 10 years I was an usher. This was the time when pew rents were still the norm, and our pew was #54. (The author is pictured in the mural above the main entrance (at right). He is the altar server standing to the right of Cardinal Gibbons.)
My earliest recollections of the interior concerned the plain brick walls and unfinished chapels. Scones mounted along the side walls provided enough light for those near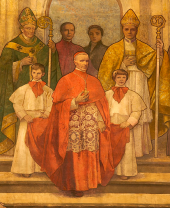 them to read, but those in the center aisle, particularly for evening services, were literally in the dark. It wasn't until Christmas of 1942 that there was a hanging chandelier in the church.
The excellent choir under the direction of Professor Malton Boyce consisted of 10-12 men. My favorite Mass in their repertoire was composed by Pietro Yon, who also composed the carol, Gesu Bambino. Anyone who heard Jack McMahon, the great baritone, sing O Holy Night would not forget it. For a number of years, on Palm Sunday night, the choir performed Dvorak's stirring Stabat Mater. Female voices were added for that composition. Hazel Arth, a local singer of renown, often sang Mozart's Alleluia on Easter morning.
Since its magnificent renovation in 2003, the interior of St. Matthew's is a model for others to follow. Though it is a large church, it has a certain aura typical of a parish church. Through its long history, many saints have passed through its doors.
– Jerry Hannan
---
A Warm and Welcoming Place
My Catholic faith has been passed down to me for several generations, and I am so grateful and blessed to have received this special gift. We have lived in Washington for three years and have been members of St. Matthew's for two years. After belonging to the Cathedral in Portland, Oregon, we were looking for a parish. We attended the Chrism Mass in 2013, and after a friendly greeting on the front steps of the Cathedral by Msgr. Jameson, we knew we were home. We love St. Matthew's Cathedral! We are involved in the parish and find it to be a warm and welcoming place, where our faith is nurtured daily! Thank you, Msgr. Jameson!
– Margi Willis
---
A Special Place In My Heart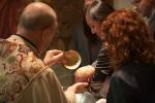 St. Matthew's holds a special place in my heart for so many reasons. It is where I grew in my faith and became a practicing Catholic again. It is where my husband converted to Catholicism, where we were married and where our son was baptized.
Although the Cathedral is beautiful and ornate, it is not what drew me to the parish. Instead, it is the welcoming environment, unlike any other. The priests at St. Matthew's have shown me such patience and kindness from the moment I walked through the doors, making it an inviting parish. They don't merely preach or counsel, but lead by example and without judgment. In times of crisis or struggles, I knew I could turn to the Church because of the wonderful priests here, who are always willing to give their time and wisdom, with patience and grace.
Through the clergy of St. Matthew's and the other parishioners, I found a welcoming environment and true sense of community which made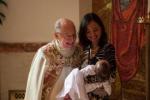 me want to volunteer, participate and give back to the parish. As a volunteer coordinator for the ESL and SSL programs, I had the great experience of sharing the joy that I received from attending St. Matthew's with others. Through that program, I met students from all over the world and celebrated their successes. They shared their cultures, languages and experiences with me, and it was truly one of the most rewarding opportunities I've had. I feel truly blessed to be a part of St. Matthew's.
- Krista Cox
---
St. Matthew's Now...and Forever
My association with St. Matthew the Apostle parish started in the Fall of 1937 when I arrived in Washington to find a job, and attend night school. Fresh out of high school I was eager to make my way in this capital city.
St. Matthew's structure was impressive, a large red brick and stone structure. The interior was surprisingly beautiful. I felt much at home, and simultaneously satisfied my parents' concern for their 19-year old, now on his own.

On Sundays I walked from 18th and Riggs Place to St. Matthew's for Mass. Walking down 18th St. I passed St. Thomas Episcopal at Church Street, where President Franklin Roosevelt worshiped. (I visited there many times with FDR in attendance.) Continuing on 18th, I crossed Massachusetts Avenue to N Street, site of the National Presbyterian Church, a landmark with a stone tower belfry. Then I followed N St. to St. Matthew's Court, to the West entrance, close to a convenient confessional and choice pews, fronting the High Altar. Simple, direct and spiritually rewarding.
Later St. Matthew's was the appropriate place for our wedding. In 1951 I married a D.C. native, Patricia O'Hara. She died in Jan. 2002.
Thriving on Potomac Fever now for almost 80 years, I am back at St. Matthew's after attending half a dozen churches in the Archdiocese. I am still preparing for my future, this time relocating to Eternal Life. St. Matthew's provided the heavenly route for me since the Fall of 1937.
- John Cosgrove
---
An Opera Star's Beginning at Old St. Matthew's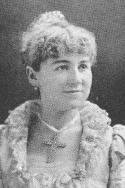 In the late 1800s, Adelaide Randall was a famous American opera star, performing in New York, Chicago, Denver, Los Angeles and elsewhere around the United States, as well as in Europe. She was especially known for comic opera, including the works of Gilbert and Sullivan.
As a girl in the 1860s, Miss Randall lived in Washington, DC, and got her early training in music at old St. Matthew's Church. From her handwritten memoir: "My experience of music at home had been in the children's choir of St. Matthew's Church …. [T]his children's choir composed of forty girls … was directed by Father John A. White, a noted Jesuit and pedagogue in music, but [to] the choir of girls a veritable ogre. He was small and slender, in his cassock beating time he was as a reed in the wind. He wore glasses of an almost impenetrable lens, impossible to see his eyes, austere, severe, yet I am sure he had no desire to frighten us into study. We had two afternoons for instructions, Tuesday and Friday after school…. We made progress, and were permitted later to sing with the adult choir at Christmas and Easter where there was a full orchestra as well as the organ…. A portion of the Mass would be alloted to the children accompanied by the strings only…. After many years this all returned to me as a wonderful experience and privilege for a child …."
– Dan Evans & Adelaide Randall
---
Married at St. Matthew's, December 1949
I first moved to Washington, DC when I was nearing age 19. My sister lived just up the street from St. Matthew's, so I started going to Mass there on Sundays. I also attended a very interesting class on the history of the Church conducted by a young priest, Fr. Louis Quinn.

Some years later, while volunteering as a hostess at a new Officers Club in Georgetown I met Bob Forrester. He proposed on our third date. The following Sunday he took me to his mother's for dinner, and I knew I had made the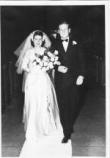 right decision; I fell in love with the whole family. At that time I was living in a different parish, but the priest there refused to marry us because he didn't believe in mixed marriages. l was crushed. What to do? Then I remembered Fr. Quinn's class at St. Matthew's. I talked to him and he said he would marry us. After six weeks of instruction we were married in the Church on December 31st, 1949. Our reception was held at The Catholic Daughters Club at Scott Circle. We have raised six wonderful children and have had a wonderful life. Thanks to Fr. Quinn for believing in me.

Almost 60 years later, we returned to D.C. for a family funeral. Since our son and grandson were with us I wanted to show them where we were married. My grandson took this picture of us standing in front of the big doors at St. Matthew's.
- Kay (Heekin) Forrester
---
Spanish Mass at St. Matthew's
In the middle sixties, when I was a student at Catholic University, there was a Mass for Spanish speaking Catholics in a chapel near the present location of the the parish church of Our Lady Queen of the Americas on California Street NW. It was known as the "Capilla Latina", and was associated with St. Matthew's Cathedral parish. I went to Mass once at the "Capilla Latina" but I was more attracted to the beautiful building that is the Cathedral.
In the seventies, after Vatican II had brought so many liturgical changes, Mass became available in Spanish in the evening at the Cathedral and I came to that Mass as often as I could. I especially loved the beautiful music at this Mass. The problem for me as well as for others was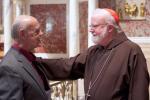 that it was offered after the 5:30 pm Mass on Sundays which was too late, especially in the winter months when it gets dark early. Eventually the Mass in Spanish was rescheduled to the present time of 1:00 pm on Sundays.
I remember Cardinal Seán O'Malley as a young priest and how involved he was with the Spanish speaking ministry at St. Matthew's. It was a thrill for me to reconnect with Cardinal Seán when he spoke at St. Matthew's on April 26, 2015.
- Francisco Ramos
---
The Women of St. Matthew's
Presentations of women both inside and outside St. Matthew's make many uplifting impressions on me.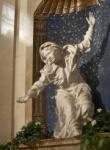 When I was first here as a seminarian, the original statue of the Blessed Mother had been smashed in an act of vandalism. Plans were underway for the current wonderful presentation of Our Lady in heaven, bending down to pick us up and help us get up there with her and the Lord. It inspires me at the altar at Mass, and has a special meaning for all who pray before it at the Wednesday evening novena
and other times.
To the right is a statue of Mary's mother, Anne, the namesake of my own mother. It, too, has a special significance for me.
Overlooking the entrance are sisters and saints included in the panoply of those who have been important in spreading the Good News in the Americas.
Across from St. Matthew's are the twelve sisters of the "Nuns of the Battlefield" memorial to the religious women who ministered to the dying and wounded from both North and South during the Civil War. Each year on the first Sunday of May, the monument's sponsors, the Ladies Ancient Order of Hibernians, worship at our 11:30am Mass and then present flowers and pray to honor the memory of these remarkable sisters.
The memorial reminds me of the foundation of the Sisters of Notre Dame de Namur, also 175 years ago! Those good sisters taught me the catechism elements of the Good News back in Somerville, Massachusetts.
And, let us not forget St. Claire along with fellow Franciscans in St. Anthony's Chapel!
– Father Jack Hurley
---
Married at St. Matthew's, February 1970
My late husband, Edward F. Carey, and I met on a cruise in September of 1969. Ed was living near Scott Circle in DC, and was a parishioner at St. Matthew's. Since his family were in the Boston area and my family were in Florida, we decided to have the wedding in Washington. We were married at St. Matthew's on February 7, 1970.


I recently made a visit to St. Matthew's, and remembered that happy occasion 45 years ago. Our Nuptial Mass was concelebrated by our family friends, Rev. James Sweeney and Rev. Vincent Murray, S.J., in what was then called St. Joseph's Chapel; now it is called the Wedding Chapel. My sister, Cree Ann Morris, was matron of honor, and my husband's brother, Paul J. Carey, was best man.
– Mary Jane (Kearns) Carey
---
Deacon Gordon and Deacon Rice
This recollection involves two past Cathedral Deacons—Deacon Larry Gordon and Deacon Ulysses Rice, Jr.
When I first began coming to the Cathedral in the late 1990s, I spoke with Deacon Gordon at the door of the Cathedral after Mass. During one of these conversations, he correctly guessed which high school I graduated from by a purple-and-white scarf I had. Later, he suggested that I should consider joining the altar server ministry. I accepted this suggestion. (Deacon Gordon entered eternal life in 2008.)
With Deacon Rice, I was able to know and to serve at Masses with a deacon that I had first seen

on television decades earlier. When I saw Deacon Rice at the Cathedral, over time my memory was refreshed. In the mid-2000s after Mass, I decided I would ask him if he was the deacon I saw, and I learned my memory was correct.
From that point and over many years, I was able to learn a lot about Deacon Rice's life experiences through our conversations before and after Mass and, in later years, on our way to his bus stop. (Deacon Rice entered eternal life in 2014.) What a joy it was to be able to speak with and better know the deacon who I first saw on television.
I am grateful for these interactions with Deacon Gordon and Deacon Rice, as they have contributed positively to my life and to my participation in parish life.
- Andre Mander
---
St. Matthew's and the Taj Mahal
My connection to St. Matthew's began when I visited Agra, India in 1989, prior to ever visiting St. Matthew's Cathedral. The incredible inlaid floral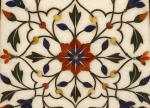 designs decorating the Taj Mahal are the same work seen in the main altar at the Cathedral of St Matthew's that I reflect upon at every Mass.
The beautiful architecture at St. Matthew's captured my heart and the weekly readings warmed my future wife and me, leading us to attend RCIA classes at the Cathedral and then to our marriage at St. Matthew's in 1994. Our first daughter was baptized here and attended one of the first small CCD classes 11 years ago for First Communion and Confirmation, started by Msgr. Jameson. Our second daughter is currently attending Sunday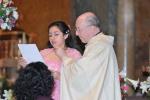 Children's Religious Education classes for Confirmation. Bro. Gabriel Torretta, O.P. and Bro. Patrick Briscoe, O.P. lead the dozen or so parents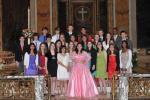 attending the adult class with stimulating, interactive and exploratory history of Catholicism while the children attend their age group classes simultaneously. We held a 15th birthday Quinceañera Mass celebration for our oldest daughter, led by Msgr. Jameson. Our daughter's fellow students and friends attended the celebration, introducing them to the community of St. Matthews.
The Cathedral brings us joy and solace, as deacons, priests, cardinals and parishioners share the messages of the day for weekly reflection. We are thankful to be a part of the 175 years of memories at St. Matthew's.
- Thomas Riggle
- Elma Molina-Riggle
---
"My Life is Passing Before My Eyes"
About 1990, I was living in Washington, D.C. near St. Matthew's. I was also tutoring a young man who panhandled at DuPont Circle. A very kind man from Jordon allowed us to use his coffee shop for lessons. I eventually learned that my young man was on crack. I pretended I didn't know, but hinted that if I ever knew somebody who was on crack, I knew how to get them into a treatment program. I also gave him my phone number (in those days you could do that without giving away your identity and address.)
One day, he called me up and said, "I have been sitting in St. Matthew's all day, and my whole life is passing before my eyes, and I would like to get into a treatment program." (I had no idea, he was Catholic!) I said, "Stay where you are, I will be right over." After a long, difficult time, he is off drugs and alcohol now, and has been off for a long time. I am still in touch with him.
- Marie Martineau
---
Life-changing Conversion of Heart
God changed my life through the St. Matthew's community. I stumbled into St. Matthews as a back pew mass-goer, spiritually lost and searching for the faith I lacked. I was introduced to the Cathedral Young Adults, where I found friends and a sense of community. These encouraged my fledgling faith life, and through them I experienced encounter with Jesus and life-changing conversion of heart. The Cathedral and CYA have continued to foster and enrich my faith since that encounter, walking with me and challenging me to continue to grow as a man for God. The Holy Spirit is truly present in and working through this community! Last but certainly not least, I met my wonderful, beautiful, and God-loving fiancee through St. Matthews. This community has shared in our relationship since the beginning, and we are excited to get married here at the Cathedral in May! I am so blessed and grateful to have found St. Matthew's as a spiritual home. God bless you all.
- Mike Owens
---
Love and Marriage at St. Matthew's
Writing about one memory at St. Matthew's is not an easy task. I have experienced so many beautiful and meaningful moments while attending mass or praying at St. Matthew's for the last 20 years of my life. But if I have to pick one, it will definitely be our wedding in 2009.
George and I started attending mass together at St. Matthew's while dating. Those "dates" were always special and allowed us to explore our spirituality together, and they brought us closer. Our experience preparing for our marriage with Msgr. Jameson was amazing. He helped us navigate all the elements at hand. Getting married at St. Matthew's had been my dream since I landed in this city in 1993 and I am so thankful to the Lord for "granting this wish" to me. We are ever so grateful to everyone who was a part of the most important day of our lives; Msgr. Jameson, the St. Matthew's staff and the wonderful Paul Hardy who made our wedding mass sound divine with his music.
Our involvement in St. Matthew's as a married couple in the Hospitality Committee and assisting during the homeless dinners organized by the Social Justice Committee allow us to continue deepening our faith and serving our community. We cannot imagine a weekend without going to mass and seeing our friends and Msgr. Jameson at St. Matt's.
Thank you St. Matthew's for being there for us!

–Carolina A. Gonzalez & George A. Page
---
A Vocation Cultivated at St. Matthew's
I was a parishioner at St. Matthew's while I lived and worked in DC from 2004-2008. It was during my time at St. Matthew's that I grew in my Catholic Faith. Through the devotion, example and guidance of the priests serving there and through the many friends I made through the young adult group I learned what it means to truly be Catholic and embrace my faith. I am now a Sister of St. Francis of Perpetual Adoration (www.ssfpa.org) in Mishawaka, Indiana, and hope to profess my final vows in August 2016. The seeds of my vocation, which had been planted in my youth, were cultivated during my time at St. Matthew's. I am grateful to my St. Matthew's family for helping me travel down a path that has led to much peace and joy. Please continue to pray for me, and be assured of my prayers for all of you! God bless you!

–Sister M. Petra Nielsen, OSF (formerly Catherine Nielsen)
---
I can't imagine my adult life without Saint Matthew's.
I can't imagine my adult life without Saint Matthew's. I've been a parishioner for many years and feel blessed to be part of such a special community. From the popular and inspirational 5:30pm Sunday mass with Father Greenfield to the mystical Tenebrae service to the prayer-in-daily life retreats to the enlightening lecture series to the ESL volunteering I do weekly, Saint Matthews is woven into the fabric of my life. How lucky I am. Thank you, Saint Matthews, for being there over the years.

—Vicki Burton
---
We are truly one body in Christ.
I grew up in a very tight-knit parish in New York City. When I moved to Washington DC, away from my family and my parish community, I sought out the same spiritual environment. After worshipping at different Catholic churches in the area, I found the same connection at St. Matthew's Cathedral.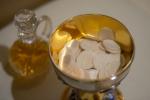 At first glance, the Cathedral is so large, that one may assume it to be impersonal. In my experience, I felt welcomed at my very first Mass and knew that God had directed me to my "home away from home". Through faith-sharing groups, Respect Life Ministry and EMC Ministry, I have deepened my faith and have developed wonderful friendshipswith my fellow parishioners. At the Cathedral, we are truly one body in Christ and the joy we feel from serving the Lord is contagious! Come and join us!

—Christine Parello
---
St. Matthew's gave me the feeling of being home.
As a young married Secret Service agent in the 1980's and early 90's, I was often assigned to temporary assignments in Washington, DC. Being away from my family was difficult but I always felt when I walked into St. Matthew's I was reunited with them. St. Matthews gave me the feeling of being home and the belief my family was in good hands while I was away.
The peaceful yet magnificent beauty of the Cathedral always gave me great comfort and an opportunity to have a conversation with God. It gave me an opportunity to say thank you, to ask for help, to look for direction in my life and Jesus never failed me. My visits gave me a chance to dream and to wonder if Jesus would allow my dreams to come true. I just enjoyed the conversations……….Jesus though may have found me boring.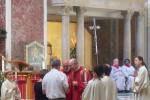 Recently, I have come back to Washington for an extended temporary assignment and once again St. Mathew's, Monsignor Jameson and all the parish priests have made me feel welcome. St. Matthews allows life to slow down a little and allows me to refocus on what's important, God's love for us.
After a quiet visit or after Mass, I always walk out of St. Matthew's refreshed, joyful and with a feeling that I've been blessed throughout my life and I have a lot to be thankful for. Thank you, St. Matthew's!

—Joe Clancy
---
Our Journey to St. Matthew's
Our journey to St. Matthew's Cathedral actually began at St. Matthew's--over 50 years ago! We came to Washington in 1962, newly married, to take jobs. Karen worked for a lawyer named John W. Carter, Jr at the Federal Trade Commission. He was an elderly gentleman, a convert to Catholicism like herself, and an usher at St. Matthew's. It was a natural bonding. They shared conversations about their faith and the cathedral. Mr. Carter served as an usher at the funeral of President Kennedy in 1963, and Karen received the sacrament of Confirmation at the cathedral in 1964. A special connection to St. Matthew's had been established in our young lives.
But St. Matthew's was not our parish, yet. Our various residences around the city during those early years, and over the next 30 years as well, would determine which parish we would attend. All of them nurtured and sustained our faith as we grew older.
After retiring we returned to Washington in 1999—and perhaps that special connection of many years ago drew us to St. Matthew's. We have been parishioners for 15 years. During that time our faith has broadened and deepened, thanks to the loving priests and deacons and the warmth and kindness of our fellow parishioners.
So, after more than 50 years, our circuitous journey has brought us back to where we started—and with pride and thankfulness we can now say, St. Matthew's Cathedral is our parish.

—Karen and Paul Ryscavage
---
Appreciation for Fr. Hurley's Bible Studies
One of my favorite inspirations at St. Matthew's has been attending Fr. Jack Hurley's Bible Study sessions over the years. Fr. Hurley is very humble, but he had a very distinguished career for over 15 years as a U. S. State Department Foreign Service Officer, in addition to serving in the Army, including a tour in South Korea, before becoming a priest. As a State Department official, Fr. Hurley's postings included South Africa, Germany, and South Vietnam in addition to the State Department Headquarters in Washington. Additionally, he occasionally teaches a course in religion and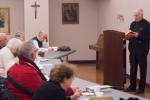 international relations at Catholic University. With his extensive State Department and international insights, Fr. Hurley makes the Bible locations fascinating, as he has been to so many of these places and knows well their geopolitical as well as historic and religious backgrounds.
I'm grateful I've been able to attend a good number of the Bible study gatherings. I not only have developed a better understanding of the Bible, but also a greater knowledge and appreciation for the impact of religion on international affairs.

—Mary Moran
---
Our Miracle, Mary Anna
Both my husband and I work in downtown DC. St. Matthew's Cathedral has become an honorary parish for me as a regular daily Mass attendee. In 2013, when I was pregnant and tossing around name ideas with my Mom, we quickly realized our family had started a naming tradition and didn't know it or even begin on purpose.
My Mom's first name is Mary, my name starts with an "M" (I am my mother's only daughter), my niece's name starts with an "M" (until our daughter, she was the family's only granddaughter), and even my grandmother's (my Mom's Mom) name starts with an "M."
Throughout the pregnancy, my husband was keen on the name Anna Grace. I liked it but wasn't in love with it.
I told my husband I wanted a name of religious significance that somehow linked our daughter to my conversion to Catholicism since she really was the reason it all happened. And I wanted to acknowledge and continue the tradition of a name starting with "M" for the girls in our family.
Then one day, in the final weeks of pregnancy and after we thought we'd never agree on a name for the baby, Mark and I were attending a daily mass at St. Matthews. He leaned over and whispered that since Mary is the Mother of God and both of our own moms have Mary in their name, it seemed naming our girl was an easy choice.
I agreed. Soon after, our miracle, Mary Anna, was born.

—Mackenzie Wooters
---
Monsignor Thomas Sim Lee, Builder and first Pastor of St Matthew's Church on Rhode Island Avenue
Thomas Sim Lee (1745-1819) was the first Governor of Maryland during the American Revolution. His wife, Mary Digges lee, provided blankets, clothes and other supplies to the Maryland Colonial Troops.
Monsignor Thomas Sim Lee (1842-1922) was Gov. Lee's Great Grandson, and the builder and first pastor of St. Matthew's Church at its present location on Rhode Island Avenue. Subsequently, it became the Cathedral of Saint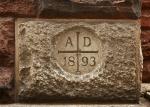 Matthew the Apostle when Washington became a separate diocese in 1939.
Msgr. Lee was a priest of the Archdiocese of Baltimore and had undertaken extensive travel in Europe and elsewhere in the world to study church architecture, meanwhile gaining approval and support for the new church from James Cardinal Gibbons the then Archbishop of Baltimore.
I came to live in the Parish 50 years ago with my Grandmother, who by then was raising myself and four of my five brothers.Through my Grandmother I am a direct descendant of Msgr. Lee's family, one that includes Richard Henry Lee (1732-1794) and Francis Lightfoot Lee (1734-1797) signers of the Declaration of Independence, as well as General Robert E. Lee (1807-1870), whose mother was Anna Carter.
Msgr. Lee was also a Great Grandson of another Signer of the Declaration of Independence, Charles Carroll of Carrollton (1737-1832). The Saint Anthony Chapel in our Cathedral is dedicated to his memory.

—Charles Carroll Carter