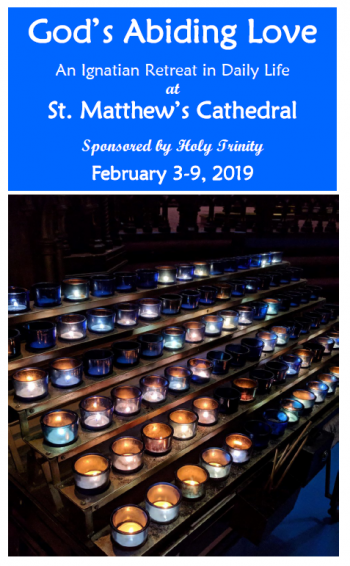 Holy Trinity Catholic Church once again offers an Ignatian Retreat in Daily Life, God's Abiding Love, with meetings at St. Matthew's Cathedral. This is a week-long (February 3 - 9) individually directed retreat made at home by those who want an introduction to praying in the tradition of St. Ignatius Loyola; that is, engaging the intellect, feelings, and imagination. View the brochure.
Participants meet with a spiritual director here at St. Matthew's daily, Monday through Friday. Opening and closing sessions are held at Holy Trinity Parish in Georgetown.
For more information on this opportunity to rekindle your experience of God's love for you and our world, pick up a brochure in the back of the church, view and print it online, or visit https://trinity.org/ignatian-spirituality/retreats/. For questions, contact Martina O'Shea at moshea@trinity.org or 202-903-2810.