Catholic Standard talked to young adults of the archdiocese to hear their thoughts and resolutions on deepening their faith in the new year.
Read the full Catholic Standard article.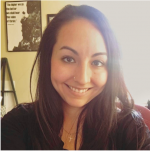 Among those interviewed was Norma Canedo, St. Matthew's Coordinator for Social Justice & Community Service Ministries, who shared the following:
"'I think many of us will find that we tend to get pulled in several directions and work on different projects all at the same time. We become busy Marthas but will at times make our daily prayer life secondary. Like Mary, it is good to choose 'the better option,' contemplating on the word of our Lord and being available to listen and be silent with Him.
'I'll at times sneak away for a few minutes to pray in the cathedral, asking the Lord to help guide me in the role that He has entrusted to me in my smallness. Because I recognize I need Him to help me in my work, it is that much more necessary for me to give Him the space to speak and guide me.
'My resolutions for the new year are to continue with spiritual direction and to work on purposefully seeking daily moments of stillness with our Lord. This and the sacraments are the fuel I need to faithfully accompany those I meet in their hardships, as well as in their joys.'
– Norma Canedo serves as the Coordinator for the Social Justice & Community Service Ministries at the Cathedral of St. Matthew the Apostle in Washington, D.C., where she has been a parishioner for 27 years, since she was 4 years old"