Information and Resources
The Archdiocese has a special webpage with the latest updates.
On our website find information and quick links to:
Actions Taken
Public Liturgies Suspended -
Amid the outbreak and spread of the Coronavirus (COVID-19) in our region, celebration of Masses, Confessions, Lenten Stations of the Cross and other liturgies are suspended until further notice. Archbishop Gregory has issued a dispensation from the obligation to attend Mass during this time to all parishioners of the Archdiocese of Washington.
Msgr. Jameson and the clergy and staff of St. Matthew's share the feelings of sadness, buoyed by faith and hope, at these decisions: "We are profoundly saddened that we are not able to celebrate our sacraments as a community for the time being, but we know Christ remains with us at all times - specifically in times of worry like this." (Archbishop Gregory) Read the Catholic Standard article.
Rectory Office Operation -
The rectory office is closed but phone calls are being answered during normal rectory hours.
Other Events Cancelled -
In addition, effective immediately, all events, classes, gatherings and group meetings at St. Matthew's are cancelled until further notice.

Please check back here regularly for updates, and follow your Cathedral parish on Facebook, Twitter, and Instagram. May God bless and protect us all.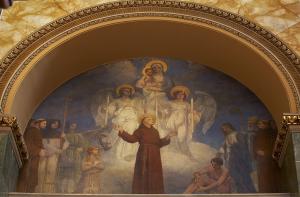 Image: St. Anthony performing a cure with the Blessed Mother holding the Christ Child, mural above the entrance to the St. Anthony Chapel from the east transept, by Vincent Aderente