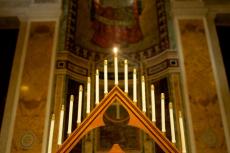 Thomas Stehle, St. Matthew's Director of Music Ministries, reflects on Holy Week without the celebration of the Liturgy of Tenebrae, a beloved musical and prayer tradition at the Cathedral. Tom also shares video recordings of several pieces of music that would have been sung by our Schola Cantorum at Tenebrae 2020.
A Holy Week Tradition Interrupted
Over the last few weeks we have received inquiries about the Cathedral's annual observance of the Liturgy of Tenebrae that traditionally is celebrated Wednesday of Holy Week. Sadly, we are not able to continue that tradition this year as we cooperate with the sensible precautions to protect as many of our most vulnerable populations from an unmanageable spike in coronavirus infections.
We are truly heartened and humbled by the number of people who have told us how much the service has meant to them over the years and how disappointed they are not to be able to join this year with the hundreds of faithful who attend and participate.
The Ancient Rite of Tenebrae at St. Matthew's
The Cathedral's Tenebrae (Latin for "darkness") is a modern adaptation and hybrid liturgy that combines elements of a venerable Holy Week adaptation of the Liturgy of the Hours dating from the 9th century. It began as a series of three vigils anticipating Holy Thursday, Good Friday and Holy Saturday. Each evening psalms were prayed, and readings proclaimed or chanted. The Lamentations of the Prophet Jeremiah were chanted on all three evenings and have become the most identifiable and memorable musical element of the current adaptation.
At St. Matthew's Cathedral, the Schola Cantorum led the Tenebrae on the Wednesday of Holy Week beginning in the early 1980s under the direction of Dr. Gerald Muller. It has become one of the most beloved ways parishioners and the local community have chosen to mark the beginning of their Paschal Triduum observances. We look forward to welcoming you back to the Cathedral next year when we once again join you in this rich and powerful prayer experience.
To hear a version of a motet that would have been sung in the Cathedral this evening, click below.
To hear a version of the chanted Lamentations of Jeremiah, click below.
To hear a version of the Christus Factus Est canticle that would have been sung this evening, click below.