Take a look back, and a listen, with Tom Stehle at the Cathedral's longstanding tradition of the 'Seven Last Words' with our Schola Cantorum, absent from this year's Good Friday liturgies.
Sung and Spoken Reflections on the 'Seven Last Words'
As with all of our Holy Week gatherings for prayer and praise, the longstanding tradition of the 'Seven Last Words' at the Cathedral will not be presented live this year.
Every Good Friday, before the official liturgy begins at 1pm with the Archbishop, the Cathedral community gathers to hear a one hour reflection preached by a gifted homilist. For each of the seven phrases that are highlighted, the Schola Cantorum sings a choral response composed by former Director of the Cathedral's Music Ministry, Dr. Gerald Muller (1980-1997).
Muller adapted a 17th century version of the 'Seven Last Words' from the Bamberg Cathedral (Germany) with a Latin text adapted by M. Shaughnessy and seamlessly wove the music and text into an organic extension using a 20th century compositional idiom with an English translation of the preceding Latin phrase.
This is an extremely well-loved and evocative setting (words below).
'Seven Last Words' Recording by St. Matthew's Schola Cantorum
Paul Hardy, Cathedral Organist, and Tom Stehle, Director of Music Ministries, uncovered and formatted for your meditation choral responses to the 'Seven Last Words' from a concert given by the Schola in May 2008.
The Seven Last Words
Gerald F. Muller
Pater, dimitte illis, non enim sciunt quid faciunt.
Father, forgive them; they know not what they do.
Amen, dico tibi: Hodie mecum eris in Paradiso.
Amen, I say to you, today you will be with me in Paradise.
Mulier, ecce filius tuus. Ecce mater tua.
Mother, behold your son. Son, behold your mother.
Deus meus, ut quid dereliquisti me?
My God, why have you forsaken me?
Sitio.
I thirst.
Consummatum est.
It has ended; it is finished.
Pater, in manus tuas commendo spiritum meum.
Father, into your hands I commend my spirit.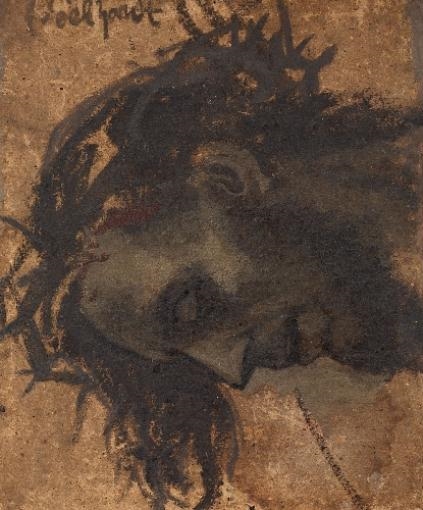 Image: "Study For The Head Of Christ In A Crucifixion," by Eduard von Gebhardt.