Looking for connection and spiritual nourishment
Although this spring has been marked by a eucharistic and social fast, we still find ways to be nourished and to connect with one another.
Scripture is one of those ways.
This can be a season of rich spiritual growth in our eucharistic spirituality.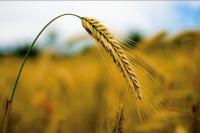 This summer St. Matthew's hosts a 5-session Bible Study by Little Rock Scripture Study on The Eucharist in Scripture.Register for either of two groups that will meet weekly via Microsoft Teams video and/or conference call - one on Sunday afternoons, and one on Monday evenings.
Register for The Eucharist in Scripture
For more information or to register, email Theresa Prymuszewski, Pastoral Associate for Faith Formation, indicating which of the following groups you would like to join:
Sundays ~ 3:30 - 5pm
July 12, July 19, July 26, August 2 and August 9
Co-Facilitators: Alma Blake and Deacon Bob Vince
or
Mondays ~ 7 - 8:30pm
July 13, July 20, July 27, August 1o, and August 17
Co-Facilitators: Betty Sullivan and Damien Gaul
Order the text
Participants should order a copy of The Eucharist in Scripture - click here for online ordering. The cost is $16.95, with Scripture, commentary, and questions all together in one book. Free online lectures are included.
The Eucharist in Scripture explores the biblical theme of meals shared in faithful fellowship and in covenant relationship with God. Old Testament meals and promises provide a foundation for gospel meals with Jesus, culminating in the Last Supper as it is understood throughout the New Testament. Jesus' bread of life discourse and the early church's practice of "breaking bread" are also explored.
VIEW A VIDEO INTRODUCTION
TO THIS STUDY!