After Covid-19 Delay, RCIA Rite of Scrutiny is Celebrated!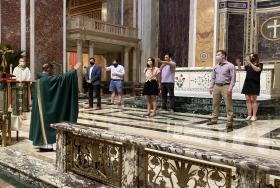 At the 5:30pm Mass on Sunday, July 12, 2020, our RCIA Elect - Camille Asaro, Jesse Bonales, and Ryan Hebein - participated in the Rite of Scrutiny as they prepared to receive the Sacraments of Initiation. Fr. Timothy Kesicki, SJ celebrated the Mass. The celebration was long delayed due to the COVID-19 pandemic, and was adapted for the safety of all.
During this Scrutiny, the Gospel of John 4:5-42 was proclaimed in which Jesus provides living water to the woman of Samaria. Together with our Elect, we too look within ourselves for the living water of Christ. We pray for the Elect who will soon experience the living waters of baptism as they are fully received into the Church.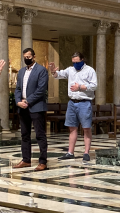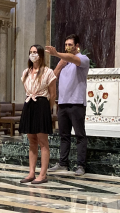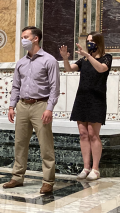 Our RCIA Elect are now one step closer on their journey of faith towards full initiation, to be celebrated at a special 11am Mass for RCIA and Confirmation Candidates on Saturday, August 22, the Memorial of the Queenship of Mary. Msgr. Jameson will be the celebrant. Please pray for this special group of people.
---
June 24, 2020
Sacraments of Initiation to be Celebrated
With great joy we announce the dates to celebrate our RCIA Elect and Candidates' Sacraments of Initiation, and our Catholic Candidates' Sacrament of Confirmation. On Monday, July 13, 2020, one of our Elect in the Spanish RCIA will receive the Sacraments of Initiation at a 9:30am Mass celebrated by Fr. Benson. On Saturday, August 22, 2020, the Memorial of the Queenship of Mary, Msgr. Jameson will celebrate the Mass for our 21 RCIA Elect and Candidates and their sponsors and families. Please keep them in your prayers as their preparations continue.
---
April 14, 2020
RCIA Members Await Their Initiation
Mid-way through Lent 2020, St. Matthew's RCIA Elect—those preparing for Baptism, Confirmation and the Eucharist, and our Candidates—those preparing for full communion and Catholics completing their sacraments of initiations—continued to meet weekly by conference call when all parish meetings were cancelled due to the Covid-19 pandemic.
As Msgr. Jameson, Cathedral Rector, wrote in a message to parishioners and friends before Holy Week, "Our catechumens will not be baptized at the Easter Vigil, nor our candidates received into full communion, but we will celebrate with them soon. When we do, it will indeed be a celebration!"
The Director for Catechesis for the Archdiocese of Washington, Sara Blauvelt, in an interview with the Catholic Standard commented: "It's hard not to be discouraged, but we have to remember there is great hope in Christ, and that is what we have to cling to."
RCIA Rites Celebrated
The RCIA Rite of Sending was celebrated on February 23, 2020 at the 5:30pm Mass with Jesuit Father Tim Kesicki presiding. Our Cathedral parish community prayed for them in preparation for the RCIA Rite of Election and Continuing Conversion, which was celebrated at the Basilica of the Immaculate Conception with Archbishop Gregory the following Sunday, March 1, 2020.
O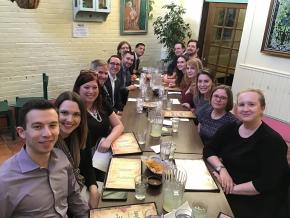 our RCIA group members and sponsors, and St. Matthew's Pastoral Associate for Faith Formation, Theresa Prymuszewski, gathered for dinner at San Antonio Grill, following the March 1 Rite of Election at the Basilica. This post-liturgy dinner has become an RCIA tradition under Theresa's leadership.
Prayers and Outreach to our RCIA Members
On Good Friday 2020, Archbishop Gregory shared a video message with the Elect and Candidates around the Archdiocese, and in his Easter column for the Catholic Standard further expressed his remembrance of our RCIA group members:
"In a special way, I turn my attention to our Elect and Candidates who have been eagerly anticipating their membership within the Church. The delay in that celebration burdens my heart as well as theirs, I am sure.
I feel the pause, perhaps more intensely, because I entered the Catholic Church at the Easter Vigil in 1959 in Chicago. Although I was still a youngster, I can vividly recall the baptismal water pouring over my head as I became a Catholic and then tasting for the first time, the Blessed Eucharist. I was so excited as I know our Elect and Candidates are for their moment of membership within this family of faith. May the restrictions that we are currently enduring soon give way to a great, joyful and warm welcome to each one of them."
In these days after Easter, the group continues their weekly conference calls and looks forward with joyful anticipation and hope in Christ.
Please continue to pray for our Cathedral RCIA Elect, Candidates and the godparents and sponsors. We all look forward to that glorious day when they will be celebrate their Sacraments of Initiation with us at the Cathedral!