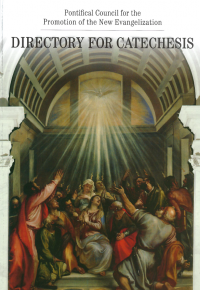 In July 2020 the Pontifical Council for the Promotion of the New Evangelization issued the Directory for Catechesis. This text provides direction and guidance for a comprehensive parish faith formation. It is the third iteration of The General Catechetical Directory published in 1971, and The General Directory for Catechesis published in 1997.
The current directory takes into account a couple of significant cultural developments since the first two were published: 1) the phenomenon of a digital culture, and 2) the implications of a globalization of culture.
Please stay tuned for how the "Christian Community (the parish) Is the Privileged Place of Formation" for our next Faith Formation Moment.
Contact Theresa Prymuszewski, Pastoral Associate for Faith Formation, for more information.