St. Matthew's Creation Care Team's Co-Chairs Simone Seym and Phil Downey cordially invite you to our new Fratelli Tutti Sessions, Series I: Fraternity, Geschwisterlichkeit, and Social Friendship.
Sundays, January 3 - February 14, 2021, 5 - 6pm, via Zoom. Follow this link for every session.
Fratelli Tutti Series
We are excited to announce a series of discussions and presentations on Pope Francis' Encyclical Fratelli Tutti.
The encyclical can be found at this link.
The Encyclical "Fratelli Tutti" was signed by Pope Francis on October 3, 2020 in Assisi and made public the following day. In signing his third encyclical letter in Assisi, Italy, the Holy Father wanted to recognize the inspiration he drew from St. Francis. Following in the footsteps of the Saint of Assisi, he urges us to dream together and dispel the dark clouds of conflicts, suffering and conformism. "Fratelli Tutti" proposes fraternity, Geschwisterlichkeit, and social friendship as the ways indicated to build a better, more just and peaceful world, with the commitment of all: people, institutions, the economic world, international organizations, civil society. Fratelli Tutti dwells on the notion of kindness. It is an invitation to graciousness and a work of spiritual discernment.
Session 1: January 3, 2021, Sunday, 5 - 6pm, FT 1-55 Introduction (FT 1-8) Ch.1 Dark Clouds Over A Closed World (FT 9-55) We are more divided than ever; we are more alone than ever. People who are no longer "useful" or needed are discarded. Many lose their rights and suffer because of new forms of slavery. Where does human dignity lie?
Session 2: January 10, 2021, Sunday, 5 - 6pm, FT 56-86 Ch. 2 A Stranger on the Road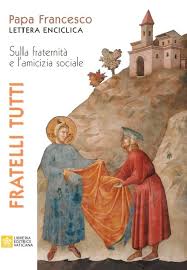 (FT 56-86) The Good Samaritan shows us that there are paths of hope. Many ignored the man lying on the wayside. Only one person stopped and gave him the gift of closeness. In today's world, with so many open wounds: do we walk by indifferently? Do we act like the Good Samaritan? We must make a choice.
Session 3: January 17, 2021, Sunday, 5 - 6pm, FT 87-153 Ch. 3 Envisaging and Engendering an Open World (FT 87-127) Reaching the peripheries where the "hidden exiles" live. Considering the dignity of each person. We must care for one another. Making a gift of self to others. There are so many things that we can do to avoid the greatest danger: failing to love.
Ch. 4 A Heart open to the Whole World (FT 128-153) Human beings have no borders. Faced with the borders between countries, we can welcome, protect, promote and integrate the people who arrive. Let us open the local to the universal, enriching ourselves with other cultures.
Session 4: January 24, 2021, Sunday, 5 - 6pm, FT 128-153 Ch. 5 A Better Kind of Politics (FT 154-197) Can universal Geschwisterlichkeit and social peace exist without a sound politics? May it be the greatest desire of all individuals and advance processes of justice for all. The kind of politics that brings human dignity back to the center and whose soul is social charity. That approaches the problems of today's world and renews social structures and organizations. That expresses itself in a spirit of openness to everyone and globalizes basic human rights.
Session 5: January 31, 2021, Sunday, 5 - 6pm, FT 198-224 Ch. 6 Dialogue and Friendship in Society (FT 198-224) Dialogue must be the basic of politics. A dialogue that respects the other's point of view. And that seeks social friendship in the encounter with the most impoverished. In this way we can do more: we can heal the open wounds generated by conflict and establish peace once again. St. Paul describes kindness as a fruit of the Holy Spirit (Gal 5:22). Let us cultivate a culture of kindness.
Session 6: February 7, 2021, Sunday, 5 - 6pm, FT 225-270 Ch. 7 Paths of Renewed Encounter (FT 225-270) True reconciliation is achieved proactively, "in the midst of" conflict, and resolving it through dialogue. Only thus will we really achieve forgiveness and reconciliation.
Session 7: February 14, 2021, Sunday, 5 - 6pm, FT 271-287 Ch. 8 Religions at the Service of Fraternity in our World (FT 271-287) The dialogue among religions makes God present in our societies. Violence has no basis in our fundamental religious convictions, but only in their distortion. Among religions, it is possible to share values and establish bonds of friendship, peace, and harmony on the path to peace. The starting point must be God's way of seeing things. Because God does not see with his eyes, God sees with his heart.
If you have further questions, please feel free to contact our Co-Chairs of the Care for Creation Team, Simone Seym and Phil Downey. You may also contact Cathedral staff for the Social Justice Ministries, Norma Canedo or Fr. John Benson.