Looking for community and spiritual nourishment?
St. Matthew's hosts Part Two of our Bible Study by Little Rock Scripture Study on The Gospel According to Mark. Register for either of two groups that meet weekly via Microsoft Teams video and/or conference call - one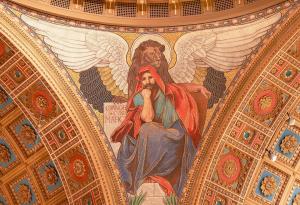 on Sunday afternoons, and one on Monday evenings.
The Gospel According to Mark is considered to be the earliest written of the four Gospels.
This Gospel is a vivid account of the ministry, suffering, and death of Jesus. Enter into a rich encounter with this preacher, wonder-worker, and Messiah, whose very life delivered an urgent message about repentance, transformation, and the meaning of suffering in a life poured out for others. The Church will be reading the Gospel of Mark starting in Advent with Year Two of the Lectionary Cycle.
PART ONE covered Mark 1:1-9:32, providing an in-depth study of Jesus' ministry of healing and preaching. Five Lessons.
PART TWO, which is the subject of this study, explores Mark 9:33-16:20, including Jesus' entry into Jerusalem and the events of his passion, death, and resurrection. Four Lessons.
Register for The Gospel According to Mark, Part Two
For more information or to register, email Theresa Prymuszewski, Pastoral Associate for Faith Formation, indicating which of the following groups you would like to join:
Sundays ~ 3:30 - 5pm
January 24 & 31, February 7 & 28
Facilitators: Alma Blake and Deacon Bob Vince

or
Mondays ~ 7 - 8:30pm
January 25, February 1 & 8, March 1
Facilitators: Betty Sullivan and Damien Gaul

Note: The following dates were purposely omitted:
February 14/15 President's Day Holiday
February 21/22 First Sunday of Lent – RCIA Rite of Election for Cathedral
Order the texts
Participants should order a copy of The Gospel According to Mark—Part Two. The cost is $16.95 per book.
Each New Edition study guide includes:
Free access to online lectures
Scripture text to read and study
Engaging and informative commentary
Questions for learning, reflection, and discussion
Opening and closing prayer for each session