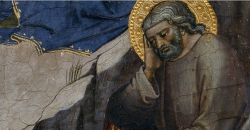 "With the Apostolic Letter "Patris Corde" ("With a Father's Heart"), Pope Francis recalls the 150th anniversary of the declaration of Saint Joseph as Patron Saint of the Universal Church. To mark the occasion, the Holy Father proclaimed a "Year of Saint Joseph" from December 8, 2020 to December 8, 2021.
At the conclusion of the Apostolic Letter, Pope Francis adds a prayer to St. Joseph, which he encourages all of us to pray together:
Hail, Guardian of the Redeemer,
Spouse of the Blessed Virgin Mary.
To you God entrusted his only Son;
In you Mary placed her trust;
With you Christ became a man.
Blessed Joseph, to us too,
Show yourself a father
And guide us in the path of life.
Obtain for us grace, mercy and courage.
And defend us from every evil. Amen.
Image: St. Joseph, Musei Vaticani