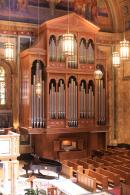 Following the January kickoff of St. Matthew's 2021 Great Organ Concert Series by Cathedral Principal Organist Paul Hardy, the Cathedral Office of Music Ministries announces its upcoming Winter & Spring recital schedule.
We are so pleased once again to give our parishioners and the greater Washington, DC community the opportunity to hear marvelous music in a concert setting.
All events are free and open to the public, and will be livestreamed on the Cathedral YouTube channel. Social distancing will be observed and face masks or coverings are required in the Cathedral.
The Reston Chorale, St Dunstan's (Episcopal) Church (McLean, VA), Theological College
Sunday, February 21 at 3:30pm
Watch the concert video!
St. Joseph Church Cockeysville (Baltimore) MD and Liturgical Organist Consortium
Sunday, March 7 at 3:30pm
St. Patrick's Church (Washington, DC) and Organ Faculty at the Catholic University of America
Sunday, April 18 at 3:30pm
St. Columba's (Oxon Hill, MD)
Wednesday, May 26 at 12:40pm
Contact Thomas Stehle, Pastoral Associate for Liturgy and Director of Music Ministries, for more information.