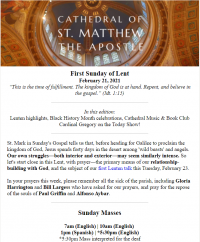 Our Parish Community Update for the 1st Week of Lent (Feb 21 - 27) went out by email today, Friday, February 19. Click on this link (& send the link to a friend who might be interested) to see the update: https://conta.cc/3uprSkG
If you're a registered parishioner with an active email address who is not receiving our Friday updates, please contact Ana Triaureau of our staff. Cathedral friends and visitors also can join the distribution by clicking on the "Sign Up for Email Updates" on the right column of our homepage.
Let's stay connected!