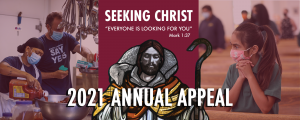 Dear Friends in Christ,
The 2021 Annual Appeal is off to a fantastic start! We have already received $170,228.50 in commitments from 296 generous households throughout our parish community!
This year's theme is Seeking Christ to remind us, in this time of hardship and need, that Christ is the source of the healing, unity, and love that we all seek. Through our collective support of the Annual Appeal, we strengthen the Body of Christ that is our local Church, and we sustain her many charitable works that serve the spiritual and other needs of all those within and beyond our parish boundaries. Please consider making a commitment to the 2021 Annual Appeal this weekend, March 20 - 21, at home or in-person. Your gift will be credited toward our parish goal. Learn more about the Annual Appeal at appeal.adw.org.
Sincerely yours in Christ,
Msgr. Jameson
Queridos amigos en Cristo:
¡La Campaña Anual 2021 ha comenzado viento en popa! Ya hemos recaudado $170,228.50 en promesas de contribución hechas por 296 familias generosas de toda nuestra comunidad parroquial!
El tema de este año es "Busquemos a Cristo" para recordarnos, en este tiempo de tantas dificultades y necesidad, que Cristo es la fuente de la sanación, la unidad y el amor que todos buscamos. Con nuestro apoyo colectivo a la Campaña Anual fortalecemos el Cuerpo de Cristo, que es nuestra Iglesia local, y sustentamos las muchas obras de caridad que lleva a cabo para atender a las necesidades espirituales y de otro tipo de cuantos residen dentro y fuera de nuestros perímetros parroquiales. Por favor, considere comprometerse a contribuir a la Campaña Anual 2021 hoy este fin de semana, 20 - 21 de marzo, en su casa o en persona. Su donativo se acreditará a la meta de recaudación de nuestra parroquia. Obtenga más información sobre la Campaña Anual en appeal.adw.org.
Sinceramente unidos en Cristo,
Mons. Jameson