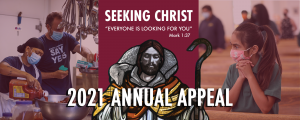 Dear Friends in Christ,
As of May 31, 2021, our parish has generated $223,461 in commitments from 383 generous households. These commitments put St. Matthew's at 93% of our parish goal of $239,900 for the 2021 Annual Appeal.
This year's theme is Seeking Christ to remind us, in this time of hardship and need, that Christ is the source of the healing, unity, and love that we all seek. Through our collective support of the Annual Appeal, we strengthen the Body of Christ that is our local Church, and we sustain her many charitable works that serve the spiritual and other needs of all those within and beyond our parish boundaries. Please consider making a commitment to the 2021 Annual Appeal. Your gift will be credited toward our parish goal. Learn more about the Annual Appeal at appeal.adw.org.
Sincerely yours in Christ,
Msgr. Jameson