Read "From the Rector, Thanks and Blessings"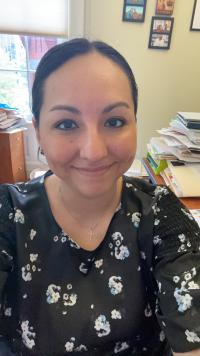 Dear Fellow Parishioners,
I remember that some time after graduating from college I found myself praying to do more for those in need. In hindsight I realized that working for my childhood parish was His unexpected response to my prayers. After 10 wonderful years working with our Social Justice Ministries, I am leaving St. Matthew's Cathedral staff to accept a position at Jubilee Housing, where I will continue to help those in need. My years here have truly been a blessed time in my life. I was honored to serve as a part-time facilitator of our Social Justice Ministries, which later evolved to a role as full-time coordinator. Working for my parish became such an immense part of my life and a way for me to grow professionally, but more importantly, in my faith and relationship with God.
The greatest gift I have received during my time here has been getting to know people: in seeing how the clergy and lay staff dedicate so fervently their gifts to upholding parish life – often behind the scenes; in seeing the powerful witness of parishioners, from all walks of life, volunteering their time with great passion for love of God and neighbor. All of you have been a beautiful embodiment of Christ's love!
In a special way, the opportunity to accompany those in need and getting to know them over the years, is what I hold dearly in my heart. Their faith and resilience have been inspirational. I am forever thankful that the Good Lord has permitted me, in my nothingness, to be able to laugh, cry, rejoice, or simply listen to, so many of His beloved children. I will always carry with me those moments.
It is here that, as a little girl, my faith grew and grew. It is here that my faith and love for serving others has been continuously shaped.
If you too feel a tug at your heart as I did 10 years ago, I invite you to learn more about our parish Social Justice Ministries. I am sure the Lord is calling you to offer your time and gifts to serve in the many wonderful ministries our parish has to offer.
I will still be a parishioner here, so I hope to see you around the Cathedral! Let us always keep our parish, and those we serve, in prayer.
God bless,
Norma
Norma Cindy Canedo-Estrada
Coordinator for Social Justice Ministries