Read Norma Cindy Canedo-Estrada's farewell message to our parish community.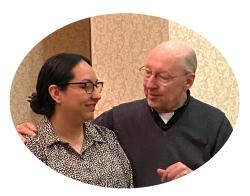 It is with sadness that I announce that Norma Canedo-Estrada will leave our parish staff as Coordinator for Social Justice Ministries on April 15. Norma will be sincerely missed by so many people in our parish and community.
Norma―unassuming, reserved, kind, compassionate, patient, a good listener, understanding—the list goes on. For the past ten years, Norma has been the face of St. Matthew's to the homeless on Monday mornings. She is the one, throughout the year, distributing gifts to families and individuals in need through our Adopt-a-Family program. She is the one meeting people in need who ring our doorbell, listening to each with compassion and determining what we can do, or what referrals we can make. She is respectful of the dignity of each person as one made in God's image. To Norma, we ALL truly are brothers and sisters, as Jesus teaches.
Norma also has coordinated the work of our Social Justice Committee―no easy task. Our Social Justice program has grown tremendously over the years. We are all grateful to Norma for her contributions to growing and sustaining St. Matthew's many Social Justice ministries.
Norma has built great relationships with our parishioners, and with Catholic Charities and WIN, the Washington Interfaith Network. I, personally, will miss Norma very much. She has followed Pope Francis faithfully in her outreach to the marginalized and those on the peripheries. She lives Matthew 25! ("For I was hungry and you gave me food....")
Thank you, Norma, for your work and witness, and God bless.
—Msgr. Jameson