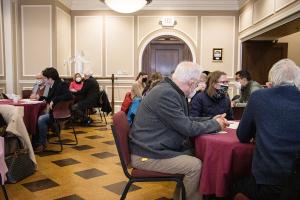 Throughout February 2022, parishioners came together to pray and discuss the state of the Catholic Church in several in-person and online listening sessions. We reflected on the following questions:
What is it like for you to experience God?
How do you experience God in the community of St. Matthew's?
What is the Spirit saying to you about the Catholic Church right now?
How is the Spirit calling the community of St. Matthew's to grow?
For a summary of the general results from these listening sessions, read the St. Matthew's Synod Report.
You may also read the Synod Archdiocesan Synthesis Report (Síntesis Diocesana en español).