Habitat Restoration with the Green Team
May 18, 2023
Kingman Island Cleanup (May 20)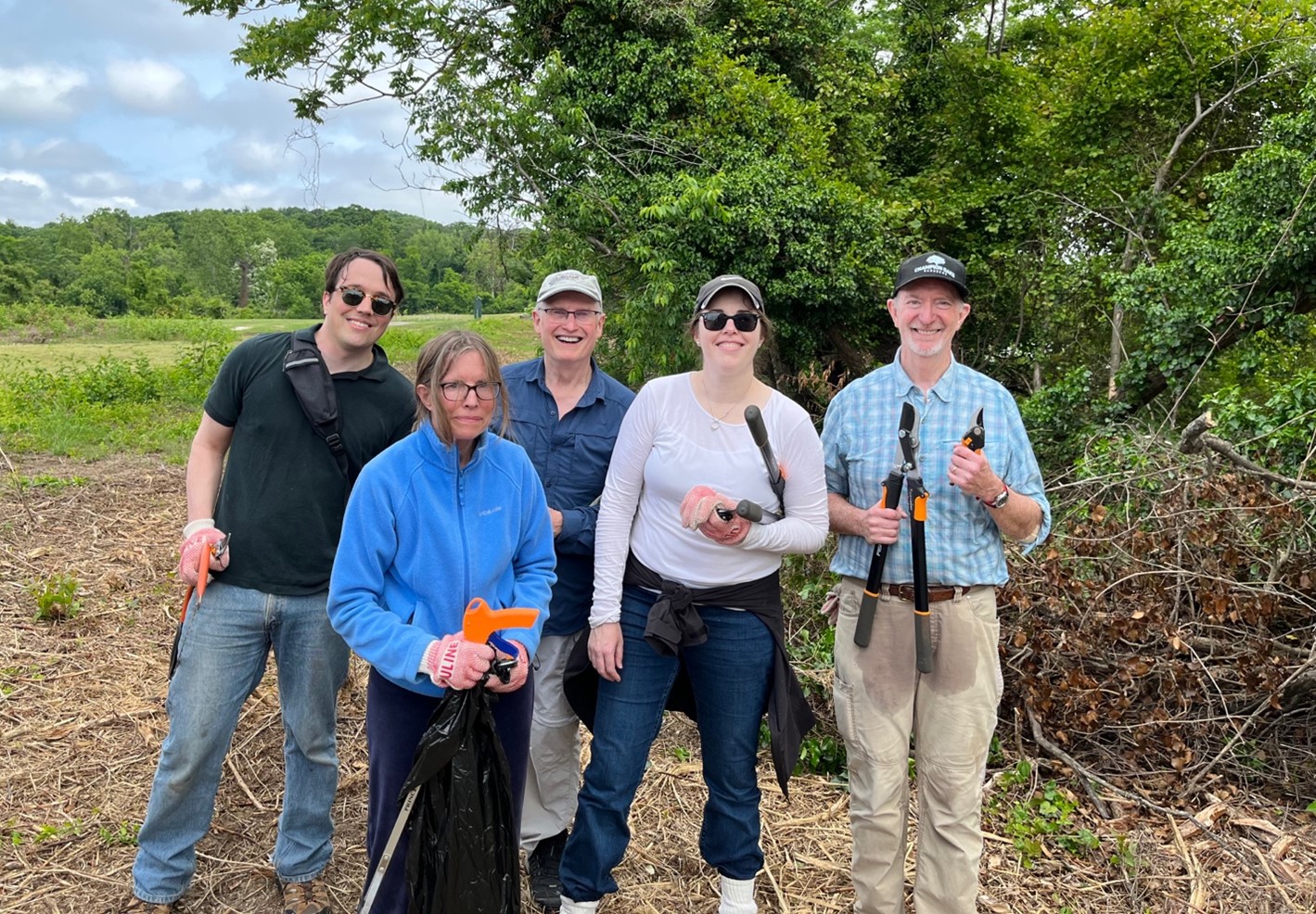 St. Matthew's Creation Care Green Team's second of three Laudato Si' Week events (see below) focused on removing invasive plants from the Anacostia River shoreline on Kingman Island. Creation Care Green Team co-chair Phil Downey writes, "Last Saturday, May 20, we joined volunteers from the Anacostia Watershed Society and worked along the banks of the historic Langston Golf Course in Northeast DC.
The course was developed in 1927 on top of dredged fill and an abandoned city dump and was open to African American golfers at a time when other DC courses were "whites only". Due to the degraded soils and the dearth of native flora, the shoreline is a dense tangle of invasives which block river views and prevent the establishment of native plant communities.  
We attacked a mess of honeysuckle and English ivy, and after two hours we had opened a beautiful view window to the Anacostia River. It was a small but exhilarating contribution to the restoration of Mother Earth."
Great work, team!
Laudato Si' Week 2023 Events
Click on the image below for a PDF with active links guiding you to our three events celebrating Laudato Si' Week 2023.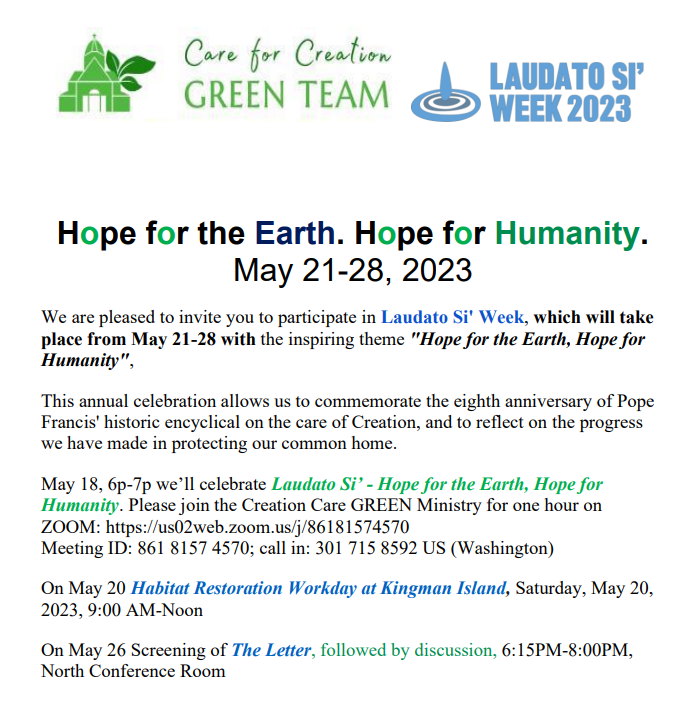 Next up: Movie Night (May 26)
LIVE Friday Night Screening of "The Letter"
St. Matthew's Creation Care Green Team invites you to a live screening of the film, "The Letter" on Friday, May 26, 2023, 6:15 - 8pm, part of our 2023 Laudato Si' Week celebration.
The Letter tells the story of a journey to Rome of frontline leaders to discuss the encyclical letter Laudato Si' with Pope Francis. The exclusive dialogue with the Pope included in the film offers a revealing insight into the personal history of Pope Francis and stories never seen since he became the Bishop of Rome."

(Laudato Si' Movement website)
The screening begins at 6:15pm, shortly after the 5:30pm Mass, in the North Conference Room. Please join us for an enlightening evening of fellowship.
Hope for the Earth. Hope for Humanity
Celebrate Laudato Si' Week 2023 with St. Matthew's Creation Care Green Team!
This year we celebrate the eighth anniversary of the publication of the encyclical Laudato Si'. "Hope for the Earth. Hope for humanity" is this year's guiding theme for Laudato Si' Week.